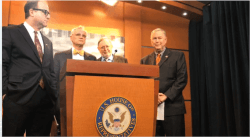 In a late night announcement, US House Representatives Earl Blumenauer (D-OR) and Dana Rohrabacher (R-CA), co-founders of the Congressional Cannabis Caucus, issued a press release announcing a decision to remove from consideration an amendment which would prevent funding to the Department of Justice for prosecution of state-legal medical cannabis operators and consumers, and which has passed the last three years with increasing approval from legislators around the country:
FOR IMMEDIATE RELEASE
September 6, 2017

Reps. Blumenauer and Rohrabacher Statement on House Rules Committee Leadership Decision to Block Vote on Medical Marijuana Protections

Washington, D.C. – Congressman Earl Blumenauer (D-OR) and Dana Rohrabacher (R-CA), co-chairs of the Congressional Cannabis Caucus, today condemned the decision by House Rules Committee leadership to block their amendment that prevents the Department of Justice from interfering with state medical marijuana laws. Because of this decision, Rohrabacher and Blumenauer will not be able to offer their amendment when the House considers Fiscal Year (FY) 2018 funding legislation this week. The Senate Appropriations Committee approved the amendment language in July. The amendment has been included in every annual appropriations law since 2014.

Blumenauer and Rohrabacher released the following statement:

"By blocking our amendment, Committee leadership is putting at risk the millions of patients who rely on medical marijuana for treatment, as well as the clinics and businesses that support them. This decision goes against the will of the American people, who overwhelmingly oppose federal interference with state marijuana laws. These critical protections are supported by a majority of our colleagues on both sides of the aisle. There's no question: If a vote were allowed, our amendment would pass on the House floor, as it has several times before.

"Our fight to protect medical marijuana patients is far from over. The marijuana reform movement is large and growing. This bad decision by the House Rules Committee is an affront to the 46 states and the District of Columbia that have legalized use and distribution of some form of medical marijuana. These programs serve millions of Americans. This setback, however, is not the final word. As House and Senate leadership negotiate a long-term funding bill, we will fight to maintain current protections."

###
Cannabis is the most popular political issue of the day, and the people want to take this market back from criminals. I believe that more than anything other issue in modern times, cannabis really is the ultimate uniter. The only reason "they" haven't legalized cannabis is because "they" is actually "us".
While we can still save these protections, the American public needs to prepare for a fight in the coming months. For newcomers to the industry, it may come as a shock to learn that cannabis legalization is still a major battle in Washington, DC. But politics is a swinging pendulum which requires constant vigilance. We can keep our fingers crossed that the Senate Appropriations Committee has more sense than the House. But let's do more than that. Let's get active and make the change we need. Contact your elected officials, and donate to one of the great organizations working to end prohibition such as the National Cannabis Industry Association, the Drug Policy Alliance, the Marijuana Policy Project, Americans for Safe Access, the National Organization for Reform of Marijuana Laws, and Students for Sensible Drug Policy.
Welcome to the fray.
Both Dana Rohrabacher and Earl Blumenauer have spoken at the International Cannabis Business Conference, discussing marijuana policy with attendees. Stay in touch with the latest in cannabis policy at the upcoming ICBC Finance Investor Summit on December 1-3, 2017, in Kauai, Hawaii, and the San Francisco ICBC on February 1-2, 2018.