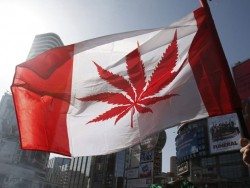 The cannabis community has been making great strides across the globe, and Canada is no different. In fact, the entire marijuana movement cheered and got another shot in the arm when the Liberal Party, with cannabis legalization as part of its platform, took over the Canadian government in a landslide. With Justin Trudeau leading the way, who unlike the next President of the United States, has used cannabis, the future is certainly bright for the Canadian cannabis community. However, with change comes obstacles and new regulations and Canadian cannabis laws are changing rapidly and the International Cannabis Business Conference (ICBC) on October 13-14 in Vancouver, British Columbia, will have the latest.
From The New York Times:
Mr. Trudeau has promised to make recreational marijuana legal in Canada as soon as next year, bypassing the nation's strict medical marijuana regulations. Under the latest rules for medical use, announced last week, patients must be registered, have a prescription and obtain their supplies only by mail from a government-licensed producer or by growing a limited amount privately.

Impatient to test the shifting political boundaries, entrepreneurs have opened hundreds of illicit dispensaries across Canada, selling products like organic marijuana buds and potent cannabis concentrates, while local governments and the police have tended to look the other way.

The marijuana boom they hope for has yet to materialize, though the Canadian government is now doing preliminary work on a measure to govern recreational use.
And as Marijuana.com reported on August 11th, Health Canada announced new changes to the law, some good, such as allowing home cultivation, but some existing dispensaries are left in a "gray area." Also, more changes are on the horizon:
Health Canada did say they are "committed to studying other models" of marijuana distribution so patients can have access, but they stopped short of endorsing any dispensary scenario for now. In that respect, Health Canada is regurgitating what the feds have already stated — let local law enforcement enforce the "laws."

An interesting and rather cryptic message, Health Canada revealed that they are exploring other models such as pharmacy distribution. It's no secret that Canada's largest pharmacy chain, Shoppers Drug Mart, has been publicly and privately lobbying the government to be the retail option of choice.

The final part of today's announcement was to let Canadians know that this is a temporary solution and shouldn't be interpreted as the long-term plan for both medical and recreational marijuana in Canada. That announcement will still come next spring according to schedule.
The upcoming ICBC will help unpack the current status of Canadian regulations while also providing a preview of where the law is headed. Additionally, as always at the ICBC, there will be a strong focus on activism, so attendees will get some insight into how to protect the rights of patients as well as implement sound, fair business regulations for the burgeoning industry. Hope to see you there!