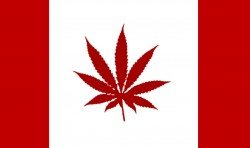 For quite awhile Canada's medical cannabis industry was built on a home-grow model. That changed last year when Canada's government created a much more limited model that put the task of growing medical cannabis into the hands of corporations. There have been many issues as a result. Per Canada.Com:
Almost a year after the federal government revamped the way medical marijuana is produced and distributed in Canada — moving from home-based operations to large-scale commercial ones — the fledgling industry continues to encounter growing pains.

A trial is set to begin next month in Federal Court that will hear patients argue that the price of marijuana charged by commercial producers is too high, depriving them of medicine to treat serious ailments. Until a decision is made, individuals who previously held licences to possess and grow their own marijuana have been allowed to continue doing so.

Commercial producers have faced other challenges, including restrictions on how they advertise their products; maintaining adequate supplies; and responding to product recalls.
I definitely get that there is a need for large scale industrial medical cannabis facilities in Canada. However, there is an even greater need for the right for patients to cultivate medicine on a smaller scale. Whenever you give the exclusive right to grow medical marijuana to only a handful of entities, there will always be problems, and patients suffer as a result.