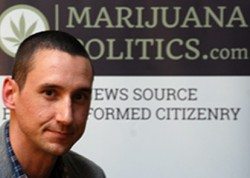 March Madness is here! Studies show it to be one of the least productive work months of the year. Rather than work, people are distracted by picking brackets, placing bets and, most importantly, watching basketball. This year, however, I find myself more interested in the on goings of cannabis, especially after another momentous time at last weeks Oregon Medical Marijuana Business Conference (OMMBC) in Eugene. Over the course of two days, I was once again tasked with conducting interviews and finding out the latest in cannabis news, culture, and business. This was a great opportunity to talk to and connect with many up and coming leaders in the industry. One such leader was Brian Brunelle with Budfolio.
Budfolio is a new app that launched last year. Based out of California, it is a people's portfolio of cannabis strains. Similar to other social media outlets such as Facebook or Instagram, it can best be described as a mobile journal of cannabis users strain experience, knowledge, and recommendations. Great for new and old cannabis users, it acts as platform where users can smoke, rate and share their strain experience. The app is free for the general public to use, and offers new users an opportunity to connect and engage with other cannabis users with wisdom and insight into how a given strain might enhance their day to day experience.
It is currently one of the only social networks for the cannabis community, and revolutionizing the way we view and experience cannabis. Sign-up to be a part of a growing community of out and proud cannabis users, and expand your knowledge on cannabis strains. You can cruise the lounge like you do your Facebook newsfeed, peruse their online strain library, and search for nearby dispensaries all on the same site. Regardless of your familiarity with cannabis and various strain types, it is sure to be a fun and informative experience.