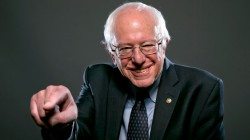 Democrats abroad voted in record numbers with a turnout more than 50% above 2008, giving Bernie Sanders a much-needed victory over Hillary Clinton heading into Tuesday's elections in Utah, Idaho and Arizona. Democratic front-runner Clinton has pushed her lead to more than 300 pledged delegates and the anti-establishment Sanders needs to win a strong majority of the remaining contests to secure the nomination. Senator Sanders earned the vote of 69% of Democrats abroad, compared to the 31% garnered by former Secretary of State Clinton. Not getting much press is the fact that Sen. Sanders won 95% of the country committees abroad, winning in 53 of the 56 committees.
Our political revolution is now resonating all over the world. Thank you, Democrats abroad! https://t.co/X8Dvc9d1Kr

— Bernie Sanders (@BernieSanders) March 21, 2016
Democrats abroad cast votes in more than 170 countries in a variety of ways–online, in-person, by mail and via fax. The various countries are then grouped into 56 country committees. The former first lady only won a majority of the votes in the Dominican Republic, Singapore and Nigeria while Bernie Sanders demonstrated dominance across the rest of the globe, winning a majority in the other 53 country committees.
After tallying the international vote, Sanders secures 9 pledged delegates while Clinton gets 4. The Democrats abroad also have four unpledged "superdelegate" votes that will be cast at the Democratic National Convention. Hillary Clinton now has 1,163 pledged delegates to Sanders' 844. The eventual Democratic nominee needs 2,383 delegates; about half of the delegates are yet to be awarded. Much has been made of the superdelegate edge enjoyed by Hillary Clinton, but those delegates don't cast their votes until the party's convention and are free to change their endorsement at any time, just as many did in favor of Barack Obama in 2008.
With such a diverse group of Democrats voting abroad, it is hard to pinpoint why voters chose to overwhelmingly support Bernie Sanders with a higher percentage of support and more than 8,500 votes than even Barack Obama garnered in 2008. Democratic voters abroad could be more progressive overall than their stateside counterparts, one could certainly speculate that they would be more wary of foreign entanglements or maybe they value their privacy.
Piquing our interest here at Marijuana Politics is how voters living in countries with progressive drug policies voted, to see any correlation. The Netherlands, for instance voted with 68% in favor of Sanders; Portugal voters supported Sanders with 63%; Canada gave 67% to Bernie; while the Americas country committee that would include countries such as Jamaica and Uruguay voted 76% in support of the candidate that wants to repeal federal cannabis prohibition.
Whatever the reason Democrats abroad chose to support the anti-establishment Sanders over the front-runner Clinton, it is very clear that international voters overwhelmingly chose the candidate that is seen to be more progressive on the Drug War (especially federal marijuana policy), foreign policy and privacy rights.
(Featured photo credit: Jacquelyn Martin/AP)