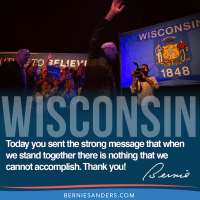 It was apparent that the Bernie Sanders political revolution was surging in Wisconsin as the anti-establishment challenger was clearly climbing in the polls. However, no poll had Senator Sanders winning by more than 10 points, but he cruised to a clear double digit victory against Hillary Clinton, the Democratic front-runner.
The highly respected site fivethirtyeight.com, while projecting a Sanders' victory, projected around a 3% victory and Sanders added 10 points to that projection. The Vermont Senator relied upon a huge victory with independent voters that could participate in the open Democratic primary. Young voters, once again, overwhelmingly backed Senator Sanders as well. The large number of non-Democrats supporting Sanders, along with polling results showing that he polls better against Donald Trump and the rest of the Republican candidates, are some of the reasons supporters contend he is the better Democratic standard bearer in the general election.
Bernie Sanders has now won 7 out of the last 8 contests and his prospects of making it 8 out of 9 are very good as he is certainly the favorite in the Wyoming caucus on Saturday. The momentum is clearly behind Senator Sanders and he, amazingly, raised more money than the Clinton political machine over the last three months, keeps the hope alive for a political revolution that is exceeding all expectations. While the closed primaries in New York and throughout the northeast will pose big challenges for the Sanders campaign, the political revolutionaries supporting the insurgent candidate can celebrate another big victory knowing that hope is still alive.
The Sanders campaign unveiled an ad in New York featuring Erica Garner, whose unarmed father was killed during an encounter with police: