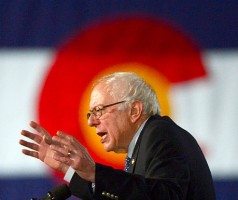 Colorado appears to be one of the upcoming Super Tuesday states that Vermont Senator Bernie Sanders can win over Democratic front-runner Hillary Clinton and marijuana legalization may just help swing the state for Sanders. Cannabis law reformers have praised Sen. Sanders' more progressive marijuana policy, particularly his call to end federal prohibition, a policy change that would have a dramatic impact upon the booming Colorado cannabis industry and the cannabis community across the country.
It is time to take marijuana off the federal list of controlled substances and let states decide.

— Bernie Sanders (@BernieSanders) February 21, 2016
A recent Target Point Consulting poll, conducted on behalf of the Washington Free Beacon, made headlines when it found that likely Democratic caucus goers were supporting Bernie Sanders by a 6% margin, 49% to 43%. Winning in Colorado and other states outside of the Deep South is imperative for the anti-establishment Sanders as polling is finding that Clinton maintains a lead among African American voters that make up a large segment of Southern Democratic voters, although Sen. Sanders appears to be making progress with minority voters. Senator Sanders call to end marijuana prohibition and reform our drug laws may help him make inroads with African American voters, especially millennials, as our nation's marijuana laws have been horrible for brown and black communities across the nation.
Kids are jailed for possessing marijuana or other minor crimes. Nothing happens to Wall Street execs whose illegal behavior harmed millions.

— Bernie Sanders (@BernieSanders) February 21, 2016
Tucked away in the Colorado polling is the enticing nugget that 63% of likely caucus goers stated that marijuana legalization was either "very good" or "somewhat good" for the state, with only 18% feeling that legalization was a bad policy. The Washington Free Beacon reported that Sanders is winning 58% of likely caucus goers that found cannabis legalization to be "very good" for Colorado while Clinton is winning 44% to 32% among those that consider legalization bad for the state. Ending federal prohibition would open up banking services to the cannabis industry and allow state-regulated marijuana businesses to conduct.
Also supporting the notion that marijuana legalization is generally good for Senator Sanders, there are positive signs in the other legalized states as well. Recent Alaska polling shows Sanders defeating Clinton by 14 points, 47.5% to 33.5%. There isn't any recent polling out of Washington State, but The Seattle Times reported that an estimated 57,000 Evergreen State residents have contributed to Senator Sanders, compared to just about 6,000 to former Secretary of State Clinton. Oregon, which doesn't vote until May 17th, also doesn't have any polling to go by, but Nate Silver over at fivethirtyeight.com expects to see a big Sanders victory of over 20%, possibly over 30%.
Ending the federal war on marijuana has gone from a fringe issue to a major mainstream issue, thanks to national polling, statewide victories at the ballot box and a lot of credit has to go to Bernie Sanders himself, who has done a great job moving the Democratic debate more progressive on the issue. As Massachusetts, Maine, California and Arizona may be voting on legalization this November, Sanders' sensible cannabis policy may provide him a boost in those prospective states as well. With the insurgent campaign of the Vermont Senator still looking strong, despite what some pundits may be spouting, every campaign advantage needs to be seized upon by the Sanders' campaign and he, and his supporters, would be wise to continue to stress his more progressive cannabis policy as the nomination process continues.
Featured Photo Credit: Brent Lewis/Getty Images