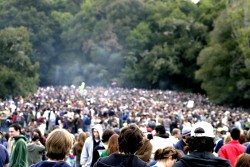 Happy April 20th!
The unofficial marijuana holiday is being celebrated with rallies and smoke-outs all over the world, with the largest events being held in Canada, The United Kingdom, and The United States. Over the weekend, an estimated 125,000 people attended a 4/20 two-day celebration in Denver's Civic Center Park – and reports from earlier in the day estimate that thousands gathered at Golden Gate Park in San Francisco for a smoke-out, openly defying the law in California where recreational use of marijuana remains illegal.
While Coloradans celebrated mostly over the weekend, the annual smoke-out celebration at Civic Center Park scheduled for today did not go as swimmingly as planned. Organizers were unable to obtain a permit for the celebration, and by the end of the festivities, Denver Police issued approximately 100 citations. While this may seem like a lot of citations, let's take a moment to remember the victory that each one of those citations represents. With legalization of marijuana in Colorado, each citation issued today replaced a potential arrest of a non-violent cannabis user, saving the state thousands in sunk incarceration costs. Instead of wasting money, legalization allowed the state to generate new revenue through these tickets.
Holiday festivities around the country went well for the most part, New Yorkers hosted a Reefer Madness Reunion Concert, Oregonians had a cannabis-awareness walk at the state's capitol in Salem, and in Philadelphia, the largest city in the U.S. where marijuana is decriminalized, organizers held a fundraiser march at Independence Hall.
It's safe to say that the 4/20 festivities this year were larger than ever before, and definitely drew more attention in the media than in previous years. The reality that four states and the capitol that have fully legalized marijuana and twenty-three others have legal medical marijuana is (seemingly) setting in. The festivities in 2016 are sure to draw even more people and media attention, especially with legalization of marijuana being such a hot-button political issue in a presidential campaign year.