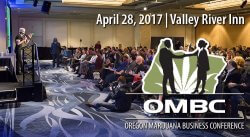 Oregonians, it's your last chance to party with Henry Rollins!
Tonight in Eugene, at the Valley River Inn, the kick-off party begins WITH HENRY ROLLINS for the Oregon Marijuana Business Conference (OMBC)! You can't wait any longer to get your tickets!
Join Henry tonight for a special VIP appearance, and then on Friday, see Henry speak along with Oregon's most informed policy analysts, scientists, and business leaders of the cannabis world. This weekend, the best of Oregon cannabis minds are meeting. It's a must-attend event!
The OMBC will cover OLCC recreational regulations, medical laws, distribution models, technology and branding, taxes, and testing regulations. State Senator Floyd Prozanski will discuss legislative developments and take part in a Q & A with attendees. OLCC regulators will also be presenting and answering questions from the audience. Henry Rollins will be delivering the keynote address, bringing his unique socially conscience message to Eugene. While all of the latest pertinent information will be covered, nothing will be timelier than the testing panel, as the state is taking public comment on new proposed rules until April 30th.
If you want to stay at the front of the market, you will come to OMBC tonight and tomorrow. And we will see you in Eugene!