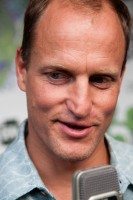 Renowned stoner, activist, and Hollywood star Woody Harrelson may be opening the first medical marijuana dispensary in Hawaii. The Natural Born Killers and True Detective star was among 66 applicants to throw their hat in the ring for one of eight licenses that will be awarded in April; he applied under his company's name, Simple Organic Living. According to the Associated Press, there are strict financial requirements in place for any potential dispensary owners who hope to open an establishment in the state-determined July time-frame. The license would allow multiple production facilities in addition to two storefronts. Here's the AP:
If selected, dispensary applicants must have $1 million cash before applying for a licenses, plus $100,000 for each dispensary location. All applicants must have been Hawaii residents for more than five years.

Under a law passed in 2015, the state will grant eight licenses for marijuana business owners across the islands. The law allows medical marijuana businesses to have two production centers and two retail dispensaries, for a total of 16 dispensaries statewide. Six are allowed on Oahu, four on Hawaii Island, four on Maui and two on Kauai.
Tetris creator Henk Rogers and a local television producer also applied.
The 54-year-old Harrelson is an environmentalist who's not been shy about his affinity for the green stuff, and frequently pops up in those "Celebrities Who Smoke Weed" listicles that infest your suggested article feed. In 1996 he was arrested for planting hemp seeds in Kentucky, a protest in conjunction with other activists against Kentucky's anti-marijuana laws. A year later he posted a half-million dollar bond for childhood cancer survivor and medical cannabis activist Todd McCormick after his home was raided by the Feds. More recently, and on a less-serious note, the actor was featured on Saturday Night Live in weed-heavy skits that anchored a widely-praised episode. Embedded below is a clip from that episode in which Harrelson plays a dredded neuvo rasta-type leading a Kumbaya singalong:
Featured Image Credit: Steve Rogers via flickr Creative Commons.