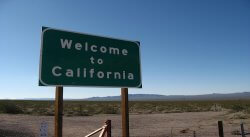 "A rose by any other name would smell as sweet." – Romeo and Juliet, William Shakespeare
While Shakespeare's words ring true across time and space, one thing is for sure: if someone offered you an air freshener for your car and you had to choose between "rose" and "stank rot" without smelling either, I'm guessing most people would go with "rose". Frankly, I don't know what "stank rot" air fresheners smell like, since they don't exist to my knowledge, but I do know what roses smell like.
This is why we brand – because everyone wants to come up, er, smelling like roses.
In the next two weeks, by September 15, California's legislature will end its special session. Before that session ends, legislators will likely have a chance to vote on a bill that would highly restrict branding and marketing in the state which promises the largest legal cannabis market in the world when legalization is set to take effect in 2018.
The measure has traction and is likely to come up for a vote. The bill would put procedures in place to restrict marketing, labeling and "even the shape of pot products." As expected, it's all about the children.
According to US News and World Report:
"'This is all about making sure, in the context of the legalization of marijuana, that you don't end up inadvertently leading so many of our young people into drug abuse,' says the bill's author, California state Sen. Ben Allen, a Democrat representing Hollywood. 'This is about protecting kids.'
"…Allen's bill is designed to cut off the walking billboards – T-shirts, hats and other swag that provide an indirect avenue for reaching children and teens. It won support from the American Academy of Pediatrics, the California Teachers Association, the California Police Chiefs Association and the child advocacy group Common Sense Kids Action.

"Ultimately, the state's Bureau of Medical Cannabis Regulation, working in concert with the state's attorney general, would be left to provide guidance for the industry, deciding whether a T-shirt sporting a corporate logo and worn by a firm's employees should be treated in the same way as a lighter, say, bearing a product name."
I definitely agree that public health and safety, particularly for children, should a top political priority, but I think efforts regarding cannabis could easily overreach in California. I would like to think the agencies listed above can all be trusted with such advisement, but we are talking about institutions which have historically spread misinformation about the dangers of cannabis. Placing cannabis' political opponents in charge of regulation might not end well for the industry. Just sayin'. The State of California will no doubt feel a pushback in lawsuits arguing for freedom of speech.
Whatever the case, we may begin to have an idea in a couple of weeks when the special session ends, just how branding and marketing will take shape in the Golden State's new industry.
Stay on top of California's cannabis market. Get your tickets now for the International Cannabis Business Conference in San Francisco on February 1st-2nd, 2018. If you are inclined to be even further ahead of the curve, and would enjoy to spend a few days in Hawaii in December, then grab your tickets to the ICBC in beautiful Kauai on December 1st thru the 3rd.