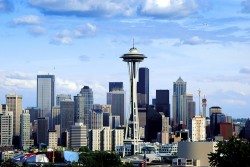 The State of Washington voted to legalize recreational cannabis during the 2012 Election. The successful initiative allowed possession of up to one ounce of cannabis, and legalized production, processing, and distribution of recreational cannabis. The initiative did not provide for home cultivation, making an effective retail commercial system a necessity.
Implementation of commercial marijuana sales has been slower and more deliberate in Washington than in Colorado. Whereas legal recreational sales started in Colorado January 1, 2014, legal recreational sales in Washington didn't start until July 2014. Despite the slower start in Washington, the recreational industry has been growing steadily. November saw Washington experience it's first one million dollar sales day for regulated adult cannabis sales. Per MJ Headline News:
On Wednesday, November 26th the state of Washington achieved a milestone the industry has been anticipating for months; the first time single-day recreational cannabis transactions (producer, processor and retail sales) broke the one million dollar barrier. Given this milestone was achieved with 75 retail stores in operation, we can anticipate that this will be a regular occurrence once the majority of the state's allocated 334 stores are licensed and in operations.
It will be interesting to see what the numbers are once all 334 stores are open and serving customers. It will also be interesting to see how the eventual rollout of cannabis stores in Oregon affects the industry in Washington. Prices for cannabis in Oregon are expected to be significantly lower than they are in Washington, which could result in either lower prices in Washington, or a decrease in business in Washington, especially along the Oregon/Washington border. Regardless of how prices and tax laws shake out, it is clear that Washington is generating new revenue that would otherwise be flowing into an unregulated, untaxed market.