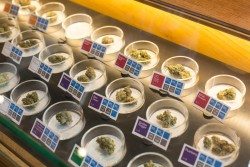 As anyone in the field knows, cannabis is an industry completely unlike any other. The history of prohibition, and the conflict between state and federal laws creates a much greater degree of uncertainty than is found in other vying markets. Maintaining compliance with constantly changing (and often over-reaching) health and safety regulations, ensuring quality and competitive products for consumers, dealing in a cash economy with constantly opening and closing bank accounts, and treading the delicate line of appropriate tax behavior, all serve to completely occupy the time and mental power of the budding cannabis entrepreneur.
Yet all that work is for naught and your business will fail if no one recognizes your product or name.
Finding the right name, creating memorable imagery, ensuring quality and consistent products, and marketing in a meaningful way are all necessary for the equation of good branding. But in the cannabis industry, the usual rules do not apply.
To begin with, patenting is a huge obstacle. Because the federal government classifies cannabis as a completely illegal substance, one cannot simply register a brand name as a trademark with the U.S. Patent and Trademark Office (USPTO). Quite simply, there is no assured federal legal protection for anyone in the cannabis trade.
However, Oliver Herzfeld at Forbes has a few pieces of advice for business start-ups which are looking to create a brand for long-term success in the trade: avoid infringement of other brand names; use your brand in a legal commercial enterprise in the meantime; register with your brand at the state level; create ancillary cannabis products which complement your product and use your brand name (such as vaporizers or rolling papers); and consider trademark licensing to third party cannabis companies who can secure longer-term branding abilities in states with legal markets.
While there are no guarantees in such a new and unusual market, experts agree that good branding is paramount to prosperity in the cannabis industry. As usual with anything marijuana business related, there are extra obstacles placed in front of entrepreneurs, but many great opportunities as well.
If you are one of those looking for prosperity in the Oregon cannabis industry, you certainly won't want to miss the Tech and Branding panel at the Oregon Marijuana Business Conference, this April 28th in Eugene. Get your tickets before prices increase!