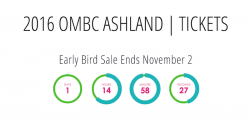 If you are in the Oregon cannabis industry, or thinking of joining, the Oregon Marijuana Business Conference (OMBC) is the cannabis event for you. There have been many changes to Oregon's medical and recreational cannabis policies and you'll get the latest at the OMBC with a preview on what may be changing next. In addition to the latest information, there will be great networking opportunities with others in the industry and some laughs and entertainment thrown in, as not every business conference includes a party with Tommy Chong in attendance and Del the Funky Homosapien performing. Get your tickets today and save $50 as early bird pricing only lasts until Wednesday at 11:59pm Pacific Time!
Despite the obstacles facing the burgeoning industry, the Oregon cannabis community has already helped create thousands of jobs and generate millions in revenue. Those that are able to adapt and overcome regulatory hurdles, will have a great opportunity to thrive.
New lab testing standards enacted on October 1st have certainly complicated the existing regulated market, but new rule changes are very likely on the horizon, easing the current burden placed upon licensees. The medical community has been greatly impacted by new rules and regulations, but advocates have been working hard to maintain safe access for thousands of patients. The November 8th elections will have a huge say on the industry, as local regulations, outright bans and tax increases will be put to the voters. The OMBC will have the latest on all things Oregon marijuana.
The OMBC always provides extra time for questions, allowing attendees ample opportunity to have their most-pressing issues addressed. Those in attendance will be able to pick the brain of licensed attorneys, entrepreneurs currently navigating regulations and the Chair of the Oregon Liquor Control Commision, who is overseeing the recreational cannabis market's rules.
In addition to the gritty, Oregon-centric cannabis industry information, the OMBC will open with a presentation from Ed Rosenthal, the Guru of Ganja himself, and close with a celebrity interview of cannabis icon Tommy Chong, who will share stories about his life and career, and surely providing plenty of laughs as well. After a full day of cannabis information, attendees will get an exclusive concert performance from hip-hop legend Del the Funky Homosapien.
Considering the many changes to our laws and the many opportunities available in the Oregon cannabis industry, tickets are going very fast. Purchase your tickets before early bird pricing ends on November 2nd and be sure to get them before they sell out.