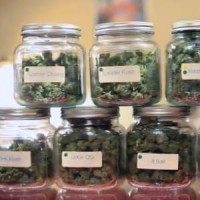 There are many reasons to support legalizing, regulating and taxing cannabis. For many, it's civil liberties and social justice. For others, it's the economic opportunities and new tax revenue. If marijuana sales in Colorado and Washington are any indication, the economics make sense, especially as federal law improves and states improve upon their own rules and regulations.
Retail cannabis sales started in Colorado at the beginning of 2014. Retail cannabis sales didn't start in Washington until July of 2014. Both states have seen steady sales numbers as the months have gone by, with increases most months over previous months. New numbers are out in both states, which show a huge increase in Washington, and steady sales numbers in Colorado. Per Marijuana Business Daily:
November retail marijuana sales in Washington State rose 24% from the previous month to hit $16 million, boosting excise taxes due to the state to more than $4 million, according to the liquor control board. Revenues and tax collections from recreational cannabis have risen each month since sales beganin early July.

In Colorado, recreational marijuana sales totaled about $30.6 million in October, up about 1.5% from the September total. Medical sales totaled $32 million, up 2% from $31.3 million the previous month.
Alaska, Oregon, and hopefully Washington D.C. will soon be rolling out legal recreational cannabis sales. I'd assume that they will see strong sales numbers too. With those strong sales numbers come much needed jobs, tax revenues, and a boost to local economies. Is there a state in America that can't use extra tax dollars and jobs? Why isn't every state in America doing this? It's likely only a matter of time until the federal government allows for states to more freely implement all of their own marijuana laws and more and more states will want to cash in on the br