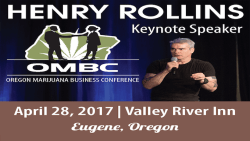 Cultural icon Henry Rollins is following up his keynote address at the International Cannabis Business Conference (ICBC) in San Francisco with a speech at the Oregon Marijuana Business Conference (OMBC) on April 28th in Eugene. The cannabis community is fortunate to have a prominent persona like Rollins, who doesn't use marijuana himself, advocating for legalization.
As the Register-Guard reports, Rollins is urging cannabis entrepreneurs to think about people over profits:
The full-day program begins with entertainer Henry Rollins, who will take the stage as keynote speaker. Rollins is considered a Renaissance Man by many, noted for his gigs as actor, author, musician and spoken-word artist among others. "We're really excited to have Henry's energy to kick it off," Rogers enthuses.

As host of the History Channel's "10 Things You Don't Know About …" Rollins did a show on cannabis and hemp several years ago. "I got a really interesting understanding" about the industry, Rollins admits in a recent phone interview. Rollins is not a cannabis user, but if he ever were to use it, he says "I don't want to go to jail because if one day I get arthritis, I want access to this product that we find has a myriad of uses."

More importantly, Rollins says, cannabis entrepreneurs have a responsibility to educate the public and to help potential users understand how cannabis, in its various forms, works. "Because to have cannabis legally sold in a state where it was illegal before, we're making a cultural impact. If you're only in it for the money, then you're kind of part of the problem. You have to be cool, patient and realize that you have a responsibility to the history and to helping people."
The Oregon Marijuana Business Conference is a great opportunity for those in the cannabis industry or thinking of joining to learn the latest information and network with others in the business. In full disclosure, I do help produce the concert, but I am honestly proud to do so. It isn't often that you get to hear a broader, outside-the-box message at a business conference like the one that Rollins will deliver (let alone, add on a VIP party with the man). Throw in the practical knowledge that the OMBC provides and the event truly is the must-attend event for the cannabis community.
This blog was originally published at Weed News and has been reposted here with special permission.