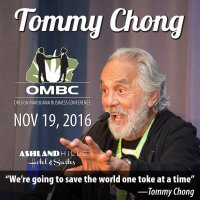 The Oregon Marijuana Business Conference (OMBC) starts this Saturday, November 19th, with an information-filled program that will have the latest on Oregon's medical and recreational cannabis systems. Ed Rosenthal, the Guru of Ganja, a long-time cultivation expert and activist will kick off the conference. Rosenthal, a no-holds barred advocate once made news in the Rogue Valley by successfully retrieving cannabis confiscated from him at the Medford airport, without an Oregon medical marijuana card and before legalization had passed. In full disclosure, I help organize the content for the OMBC and am proud of the curriculum that the event provides attendees.
For those able to spend Friday evening in beautiful Ashland, the OMBC is also hosting a VIP event at the Ashland Hills Hotel & Suites' Stardust Lounge, from 6pm to 8pm. Conference speakers, including Rosenthal, and local entrepreneurs, will be in attendance, making the VIP event a premier networking opportunity for those in the cannabis industry or thinking of joining.
The Organic Alcohol Company is sponsoring the VIP event that will feature hors d'oeuvres and an open bar. The Organic Alcohol Company, a local distillery committed to the environmental and economic health of the Rogue Valley, is a great partner for the OMBC and the entire Oregon cannabis community.
The OMBC returns to Ashland at a crucial time for the Oregon cannabis industry as medical and recreational growers, processors and retailers adjust to new regulations. Medical dispensaries won't be allowed to sell to the general population on January 1st, so many in the industry are transitioning to the recreational system regulated by the Oregon Liquor Control Commission (OLCC). The OMBC will have the latest information for those that want to get an OLCC license or want to remain strictly medical providers. Rob Patridge, Chair of the OLCC, will be speaking and answering questions, and a few other OLCC staffers will be on hand as well, giving attendees plenty of opportunities to have their concerns addressed by state regulators.
The OMBC will also feature panels with business people that have succeeded in both the medical and recreational systems, as they share tips of the trade. The one-and-only Tommy Chong will close the conference program with and illuminating celebrity interview by Celebstoner's Steve Bloom. Tommy will dish on his life and career, from his early musical career to his time with Cheech Marin to serving prison time to launching his own line of cannabis. Following the conference, attendees will be treated to an exclusive concert with hip-hop legend Del the Funky Homosapien at the Brickroom.
Information about the Friday VIP event, Saturday's conference and the Saturday-night after-party is available at the OMBC website. Tickets can be purchased online, at several local businesses or by phone at 541-864-0090. Tickets secured before Friday are $199, $299 if including the Friday VIP event. Starting Friday, prices go up to $249 and $349, so get your tickets now!