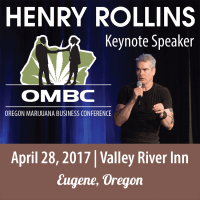 The Oregon Marijuana Business Conference (OMBC) on April 28th is shaping up to be a great conference that will give you the latest information you need about cannabis laws and regulations in the Beaver State. In addition, to the conference agenda, the parties on Thursday (April 27th) and Friday night, are going to be OFF THE HOOK!!!
In advance of Oregon's biggest and best cannabis B2B event, the Oregon Marijuana Business Conference (OMBC) is hosting a special VIP reception and networking event with music and comedy icon, the legendary HENRY ROLLINS!! Join the topmost-tier of Oregon cannabis industry professionals on Thursday, April 27th, from 6-8 pm for your chance to be part of an intimate group to meet and party with the one and only Henry Rollins!
Then, on Friday, April 28th, the OMBC commences for a day-long program of established cannabis experts with the most current knowledge of Oregon's medical and adult-use cannabis trends and changing regulations, including cannabis testing, tech and branding, taxes and more! OMBC attendees will hear from licensed professionals, OLCC regulators, have the opportunity to ask questions of cannabis business attorneys and State Senator Floyd Prozanski, and network with others in the industry.
After the conference, ATTENDEES ONLY of the OMBC will be welcome to join the After-Party with Marv Ellis at Whirled Pies, sponsored by Prohbtd Media, where the high times continue and conference goers will rage (or just unwind, whatever suits your style)!
Ticket prices will go up on April 26th, so get your VIP passes to join Oregon's hottest upcoming soiree with Henry Rollins today! If you are in the Oregon cannabis industry, or thinking of joining, the OMBC is the marijuana event for you.
We'll see you in Eugene!