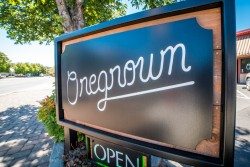 From my experience and everybody that I know, the cannabis community comes in all stripes. We don't fit into the stereotypes that prohibitionists have tried to stick to us. No offense to Cheech and Chong or Jeff Spicoli or Brad Pitt's character in True Romance, the slacker stoner stereotype doesn't work on us anymore. Cannabis consumers have gone on to top of all segments of society, from the arts (of course) to business to science to all the way to the White House. Helping shatter those stereotypes in Oregon is Oregrown in Bend.
Oregrown is a professional, high-class (pun intended) retail establishment that showcases how far the cannabis industry has come in Oregon. When you are turning Black Friday into Green Friday by supporting the cannabis community in the Beaver State this year, Oregrown is a great place to purchase a gift for the cannabis connoisseurs on your shopping list.
The company adheres to the Oregon-centric model of "farm to table" by producing and processing its own cannabis strains and products while also carrying top-quality products from other vendors. Taking it up a notch this holiday season, Oregrown is offering cannabis flights of two to four strains and then combining those flights with customized jars and packaging, allowing shoppers to truly personalize gifts for their favorite cannabis consumer.
KATU news covered the retail outlets unique cannabis flights and packaging, featuring co-founder Aviv Hadar:
"By showing a level of respect our product deserves, we're celebrating the fact that people like to smoke a joint at night rather than a glass of wine," Hadar said.

Hadar is a pioneer within legal marijuana; his shop boosts some of the highest sales in the state and he is obsessed with eliminating the stigma associated with marijuana.

***

"The lead time on these custom boxes and custom jars is very intense, it's similar to fashion in that you need to think months out," Hadar said. "The reaction has been incredible from everywhere."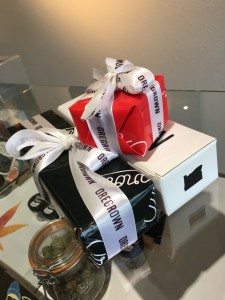 Customers picking up top-notch cannabis at Oregrown should know that there hard-earned dollars are going towards a business that has, and does, put its money towards improving the cannabis industry. Oregrown was one of the biggest local contributors to the New Approach Oregon Vote Yes on 91 campaign that brought legalization to Oregon and they have continued to work towards sensible industry regulations and laws, both locally and federally.
While wanting to implement good industry regulations, Oregrown understands that ending harsh criminal penalties is at the core of the cannabis law reform movement. I can testify first-hand that the proprietors of Oregrown have worked hard to improve Oregon's cannabis laws and can wholeheartedly urge cannabis consumers in the Bend area check out this tremendous establishment.
Check out their menu here and pick up some cool merch here.
As we mentioned in our 2015 Holiday Guide:
Living and breathing the farm to table model, Oregrown has proven to be a model dispensary that provides great products and service. The establishment is pure class. A truly great cannabis destination, Oregrown is conveniently located in the heart of downtown Bend, less than two blocks from Deschutes Brewery and Brother Jon's Alehouse. You can stop by and hop into the Patagonia store close by as well. Always on the cutting edge of the cannabis industry, Oregrown offers cannabis flights that come in custom jars and boxes, allowing you to give a truly unique gift.

Location

1199 NW Wall St.
Bend, Oregon 97701

Hours:
Everyday 9 am to 10 pm

Oregrown, with the highest sales in the state, has left many, many customers very happy.

High-quality cannabis is available at Oregrown.