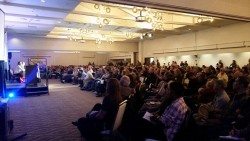 The Oregon Marijuana Business Conference (OMBC) will bring about 800 cannabis industry participants into the small, eccentric town of Ashland. The town of about 20,000, known for it's famous Shakespeare Festival will get an economic boost of about $250,000 the weekend of November 19th, as reported by the Ashland Daily Tidings. Industry participants, and those thinking about the industry, will fill up the Ashland Hills Hotel & Suites, and spend plenty of money at local businesses.
It makes sense that Ashland would serve as a hub for the cannabis industry as the Rogue Valley area is basically the Emerald Triangle of Oregon, with a great climate that produces some of the finest cannabis in the world. As sustainability becomes a more important issue as climate change impacts people from across the globe, the outdoor cultivation taking place in the Rogue Valley will become a major brand, not just across Oregon, but eventually, across the nation and the world, once we can end the pesky international war on cannabis.
Alex Rogers, the lead producer of the OMBC, has helped organize events around the world, starting with the High Times Cannabis Cup in Amsterdam to the International Cannabis Business Conference (ICBC). The ICBC just finished a successful event in Vancouver, British Columbia, Canada, and will be going across the pond on April 11th-12th for an event in Berlin, Germany. A protege of Jack Herer, the godfather of the modern cannabis legalization movement, Rogers welcomes the opportunity to spread the message of cannabis freedom and help entrepreneurs network to bring the benefits of the cannabis plant to all.
For Rogers, the OMBC and ICBC, aren't just about making money, as he wants to help ensure that people don't go to prison for marijuana and that patients have safe access to cannabis. Alex owns Ashland Alternative Health and Northwest Alternative Health, assisting more than 5,000 patients register with the Oregon Medical Marijuana Program, so he sees firsthand the how cannabis has improved the lives of so many sick and disabled patients.
The OMBC will provide the latest information on Oregon's marijuana laws, but will also provide an opportunity for industry participants to network and share ideas so that everyone can succeed in the market, including smaller businesses and mom-and-pops. With top experts, lawyers and entrepreneurs on the agenda, OMBC participants will get the information they need while Tommy Chong and Del the Funky Homosapien will bring some laughs and great entertainment. Also, it will be a treat to see Rogue Valley farmers pick the brain of Ed Rosenthal, the Guru of Ganja. If you are in the cannabis industry, or thinking of joining, swing thru the beautiful town of Ashland on November 19th and join us at the one-and-only Oregon Marijuana Business Conference. But you better hurry, as the OMBC will sell out!