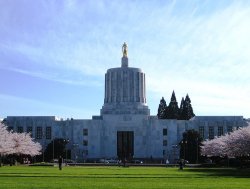 In response to recently mixed messages coming from Washington, DC regarding federal enforcement of cannabis prohibition, legislation inched forward in Salem recently which would protect privacy of information for non-medical cannabis users. Senate Bill 863 passed a major hurdle yesterday when it cleared the Senate floor, moving on to the House for consideration. The bill initiated as a proposal from the 10-member, bipartisan Joint Committee on Marijuana Regulation which has been overseeing Oregon's marijuana laws, and has garnered sponsorship from both sides of the aisle.
According to the Associated Press, the bill would protect Oregon citizens' privacy by prohibiting certain collection of data, but stops short for medical cannabis patients:
"The bill's bipartisan sponsors want to put a stop to what's become a common practice within Oregon's budding pot industry, where legal retailers often stockpile the names, birthdates, addresses, driver's license numbers and other private information of each recreational customer that walks through their doors. Such activity is either prohibited or discouraged in Alaska, Colorado and Washington state.

Should the proposal become law, pot retailers would have 30 days to destroy their recreational customers' data– derived from the driver's licenses, passports or military IDs that are used to verify patrons are at least 21– and would be banned from such record-keeping moving forward. Medical marijuana cardholders' data would be excluded from the provisions."
Unfortunately the bill will not extend the same protection to patients. Jonathan Lockwood, a spokesman for the Senate GOP caucus, explains it like so:
"'When you're a medical cardholder, you opt-in to your records being kept because you have a qualifying condition that requires higher limits and potencies and certain products … So, the bill went as far as it reasonably could to protect privacy,' Lockwood said."
In an extremely unusual political year, cannabis has clearly become the central issue for lawmakers fighting to maintain states' rights against an uncertain administration in our nation's capitol. Cannabis remains more popular than nearly every federal or state level politician in the country. The Oregon Legislature is spot on in making this protection of its citizens a priority. Though certainly imperfect, the bill appears to have legs, and is a step in the right direction.
Oregonians, and those from other states who would model our laws, will be watching closely to see what happens this legislative session in Salem. The laws and rules are always seemingly always changing and it can certainly be hard to keep up with the latest.
Stay up to date on all relevant legislation and join the largest gathering of cannabis entrepreneurs in the Beaver State at the Oregon Marijuana Business Conference in Eugene this April 28th, 2017! Not only are top industry professionals and experts presenting, but Henry Rollins is delivering the keynote address. Get your tickets by April 14th to save!