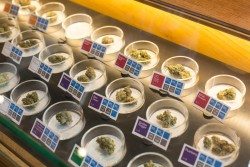 On July 1st, Oregon will become the fourth state to legalize personal amounts of marijuana, following Colorado, Washington and Alaska (and let's not forget Washington, D.C.). However, the Beaver State has the bragging rights of being the first state to decriminalize marijuana all the way back in 1973; was in the 2nd wave of states to legalize medical cannabis in 1998; and looks poised to be the third state to enact regulated cannabis commerce for adults over the age of 21 as early as October 1st of this year. Starting limited cannabis sales about a year earlier than expected will be a boon for Oregon cannabis retailers (who are ready to roll), growers and consumers.
Senate Bill 460 passed the Measure 91 Committee unanimously and should have good odds of garnering the simple majority necessary to pass both the House and the Senate. While Governor Brown hasn't signaled whether she would sign the bill, it seems unlikely that the Democratic governor would veto a bill supported by a majority of her party, provides a regulated avenue for adults to purchase legal marijuana and will generate much-needed revenue for the state several months earlier than the state expected to bring in from marijuana sales.
The Oregonian reports:
Supporters of a temporary sales program at dispensaries said this is a way to avoid a new surge of demand for pot on the black market. The legislation, Senate Bill 460, includes a number of restrictions limiting the extent of sales.

Recreational buyers would be limited to buying one-quarter ounce of dried marijuana buds and leaves per day. They could also buy seeds and immature plant starts, which they could use to grow their own at home. Consumers would not be allowed to buy a range of other marijuana-laced products available to medical marijuana users, such as foodstuffs and concentrated forms of the drug.

The Oregon Health Authority has issued about 310 dispensary licenses and more than 90 other applications are pending On its website, the authority lists 222 dispensaries that are open and agree to be publicly identified. Ninety-one of them are in the city of Portland.
As Jeff Mapes notes in The Oregonian, sales will be limited to non-patients, so don't give up your Oregon Medical Marijuana Program (OMMP) card just yet. Concentrates, marijuana-infused edibles and extracts cannot be purchased by non-patients and patients won't be limited to only purchases of 7 grams. Non-patients will have to wait about a year for marijuana products other than just the flowers and will have to pay a tax that patients won't be subjected to.
Personally, I think that this is a good move for Oregon. Cannabis consumers will have safe, regulated places to acquire marijuana legally. Medical marijuana dispensaries will likely need to hire more staff and will certainly purchase more marijuana from Oregon's renowned cultivating community. Oregon needs good-paying jobs (what state doesn't?) and the burgeoning cannabis industry is one of the few growing industries that can provide living-wage jobs while providing an opportunity for enterprising entrepreneurs to live the American Dream.
Not only will jobs be created by this bill, but new revenue will enter the state's coffers just after the New Year. Oregon's schools and health programs could definitely use more funds and it makes much more sense for marijuana to pay for schools and healthcare instead of more prisons. Hopefully, the full Oregon Legislature will pass this bill and Governor Brown will sign. Please make your voice heard and lets continue to move Oregon's cannabis industry forward in a way that will benefit all Oregonians and provide a model for the rest of the country to follow.