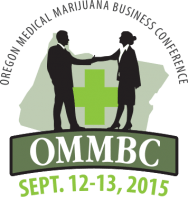 Oregon Medical Marijuana Business Conference Just One Week Away!The timing of the Oregon Medical Marijuana Business Conference (OMMBC), just two weeks ahead of recreational sales starting in Oregon, could not really be better. The Oregon Health Authority has released the rules that will allow existing medical cannabis dispensaries to sell up to 7 grams of marijuana flower to non-patients age 21 and over starting on October 1st. The Oregon Liquor Control Commission (OLCC) is in the middle of developing the rules for opening up full cannabis commerce among adults in 2016 as the rules are scheduled to be finalized the first week of November. Cities and counties across the state are developing local regulations and some localities are banning marijuana businesses outright while others are giving their voters an opportunity to make the call at the 2016 general election.
The OMMBC will provide updates on all of the latest information regarding local and state law from advocates, experts and industry participants with hands-on experience. In addition to the local and state updates, conference attendees will gain insight into current federal law and where it is headed. Congressman Earl Blumenauer, who leads the way on the all cannabis law reform issues in Congress, will be providing a keynote address and Henry Wykowski, the nation's preeminent cannabis business tax attorney, will discuss 280e IRS tax law. Judge Jim Gray, the 2012 Libertarian Party vice-presidential candidate is keynoting the first day.
Whether you are a cannabis grower, processor, dispensary owner or own an ancillary business,the OMMBC is the conference to attend for those in the Oregon cannabis industry, or thinking of joining the business. The conference provides all attendees the opportunity to pick the brain of lawyers, experts and industry participants, as well as great networking events. With music on Saturday night and comedy on Sunday, the OMMBC provides not only great information, but also engaging, entertaining networking events. The downtown Portland Hilton is hosting the OMMBC conference while Spirit of 77 is the networking event venue. Regular tickets are are on sale for $399 and discounted hotel rooms are still available. Get yours now before they sell out!