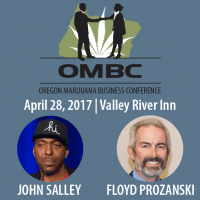 The Oregon Marijuana Business Conference is coming – and it is right around the corner!
Join the host of cannabis experts and meet the ganjapreneurs making cannabis business a profitable reality on April 28th in Eugene. The program has been announced, and the following topics will be covered:
OLCC Regulations
Oregon has seen a tidal wave of policy change related to commercial cannabis activity. This panel will feature several speakers from the state regulatory agencies tasked with regulating and licensing cannabis businesses in Oregon. This panel will deliver up-to-date and accurate information regarding the status of forthcoming state regulations and licenses across all facets of the industry.
Staying Medical
There are some small mom and pops that are finding ways to survive and even thrive. Whether it is staying medical, securing a micro canopy license and utilizing the upcoming increase in canopy size allowed for OLCC growers that keep growing for patients, we'll have some small farmers on hand to talk about the challenges and opportunities for small businesses and farmers.
Distribution
A hot topic among all consumer brands and manufactures, our panelists include a diversity of distribution models including agricultural cooperatives, independent distributors, online wholesale marketplace platforms, aggregation and processing centers, transportation and security providers. The panel will provide a comprehensive analysis of license types and distribution models conducive to all types and sizes of operators and their needs.
Tech and Branding
Cannabis has gone mainstream, which means ratcheting up innovation and focusing on brand are crucial factors for success. Our panel features cannabis industry disruptors along with media professionals from fortune 500 companies, discussing the new competitive paradigm, including a focus on recreational consumers.
Taxes and Cannabis
Navigating the IRS 280E limitations can be a daunting task; if not properly understood the risk of paying too much tax, or being audited, is high. Operating a parallel business to reclaim otherwise disallowed deductions is a tried and true way to handle the 280E limitations. Selecting the right Business Entity for your business is essential and by far the most effective way to mitigate your tax liability as well as keep your audit profile low.
Oregon Testing Regulations
Oregon's testing standards went through a dramatic overhaul last October with new rules and regulations creating a bottleneck at licensed labs, hindering the cannabis industry. With more state-regulated labs now online, the congestion in the supply chain seems to have subsided as it's being reported that marijuana products are getting about a one-week turnaround at most testing facilities. However, problems, and controversies, still remain.
The state has adopted temporary rules that have loosened up the testing standards and protocols, a move that has divided many in the cannabis community as we work towards a policy that sufficiently protects consumers, especially patients, while not unnecessarily over regulating the industry.. The state is taking comment on the issue until April 30th, making this panel's topic an extremely relevant conversation for the cannabis community.
Celebrity Interview with John Salley
Freedom Leaf editor Steve Bloom interviews former NBA star and medical marijuana advocate John Salley, who won four championships with the Pistons, Bulls and Lakers during his 14-year professional career.
It's an event you won't want to miss, so mark you calendars and buy your tickets now for the 2017 OMBC in Eugene!