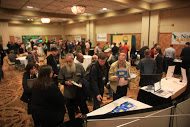 The Oregon Medical Marijuana Business Conference (OMMBC) kicks off today at the Hilton in Eugene Oregon. The entire lineup is great, but I'm really looking forward to former New Mexico Governor Gary Johnson, Oregon State Senator Floyd Prozanski and the media panel with The Oregonian's Noelle Crombie, Russ Belville of 420Radio.org (and Marijuana Politics contributor) and long-time activist Doug McVay. Marijuana Politics contributors Ngaio Bealum, Allison Dumas and myself will be on the scene.
Last year the Oregon Medical Marijuana Business Conference drew around 400 attendees. This year, they're doubling the size of the convention and expect around 750 people to attend.

***

With the passage of Measure 91 organizers say there are going to be big changes in the ways these businesses run, which is why they expect such a large crowd.

"Tell people what they can expect. Now, we don't know yet exactly because the rules won't be codified until the end of June. We're giving people as much information as they can regardling the situation so they can make an educated decision," said Alex Rogers, Executive Producer Oregon Medical Marijuana Business Conference.
We'll be posting updates today and exclusive news, notes, interviews and pictures here on Marijuana Politics as well as various social media outlets with the hashtag keyword #OMMBC, so please check back early and often.