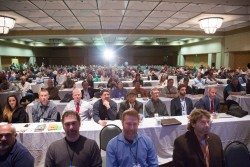 The Oregon Medical Marijuana Business Conference (OMMBC) was by all accounts a great success, complete with news and notes about activism, culture and, of course, business. Typical of both the OMMBC and the International Cannabis Business Conference (ICBC), these conferences, lead by my friend and colleague Alex Rogers (longtime activist and owner of Ashland Alternative Health and Northwest Alternative Health medical cannabis clinics), focus mainly on politics, advocacy and culture on day one and then move towards a business and industry focus on day two. This OMMBC was held at a critical time as the Oregon Medical Marijuana Program (OMMP) currently serves about 70,000 patients through their caregivers and growers, along with over 200 state-licensed medical marijuana facilities while the state moves towards developing rules and regulations for a cannabis commerce system that serves all adults over the age of 21.
On day one, Gary Johnson delivered a great keynote, giving us a national perspective about politics and business and how he perceives the industry proceeding in the near future. I had to follow the former two-term governor and past (and future) presidential candidate (no pressure) and I focused on the need for Oregon to follow the will of the voters and implement the text of Measure 91, Oregon's legalization initiative, passed by just over 56% of the vote. I stressed the need for unity among advocates and the industry, urging everyone, regardless of their position or industry to try and understand the needs of others, including those that voted against Measure 91, as we are most effective when we work together and that we have an obligation to other states across the country to responsibly implement a legalization system that can be a model for others and certainly doesn't hurt the prospects of the states voting on legalization in the near future.
Oregon State Senator Floyd Prozankski gave a very informative update on the Oregon Legislative session, detailing the debates and negotiations legislators and policy makers are engaged in. Portland-area business attorney Ted Roe provided legal advice from business formation to trademarks to branding to following Oregon marijuana law. The final panel on marijuana and the media featured long-time activist Doug McVay, editor of Drug War Facts and host of the Drug War Facts Podcast; 420Radio.org's Russ Belville (and Marijuana Politics contributor); and The Oregonian's marijuana beat writer Noelle Crombie who all discussed how marijuana is portrayed in the media today and how that has changed over years, along with what we can expect in the near future.
Day two of the OMMBC, featured a keynote address by Harborside Health Center's Steve DeAngelo, who, really better than anyone, can speak about the combination of business and advocacy. The next three panels included gritty information for Oregon marijuana entrepreneurs or those thinking about joining the industry, pairing expert businesspeople with local Oregon attorneys, allowing attendees to ask pertinent questions to leaders of the industry as well as practicing attorneys. For production, expert grower Jamin Giersbach of the Talent Health Club was paired with long-time NORML Legal Attorney Paul Loney. The extracts panel featured Karen Sprague of the CO2 Company along with Grants Pass Attorney Robert Graham. A panel on retail featured the Greener Side's Chelsea Hopkins, of Eugene, along with long-time criminal defense attorney Leland Berger, who has now transitioned much of his practice to compliance issues with Oregon Cannabis Compliance Counsel, LLC.
Todd Dalotto, long-time activist and former Chair of the Oregon Advisory Committee on Medical Marijuana,and current president of CAN! Research, Education and Consulting and Jeremy Sackett of Cascadia Labs tackled the ins and outs of testing cannabis; what the current testing laws are in Oregon; and where testing lab regulations are likely to take us. And finally, the entrepreneur panel featured Amy Poinsett of MJ Freeway; Dan Arbit, president of Tru Media and publisher of Smell the Truth; and Cy Scott co-founder of Leafly.com.
The entertainment at the OMMBC was amazing and really helped round out a great time. Hip-hop legend Del the Funky Homosapien AKA Deltron 3030 AKA Sir Dzl put on a tremendous performance on Sunday night. I wouldn't call myself a connoisseur of live hip-hop performances, but I have seen the Wu Tang Clan and Snoop Dogg and I would easily place Del's performance above both of those other legends. My good friend Ngaio Bealum (Culture Editor for Marijuana Politics) had everyone laughing and rolling the aisles Monday night as folks could get a good laugh on to wind down after the conference. Ngaio really needs to open up more about sex and drugs and not be so repressed (just kidding, everyone).
All in all, the OMMBC was informative, engaging and entertaining. I'm proud to have played a part and am very thankful to everyone who attended, exhibited, and worked the event. Next up, the OMMBC crew moves onto Portland on September 12-13 at the downtown Hilton. I will certainly have more information as September gets closer and closer posted here at Marijuana Politics and be sure to check back at www.OMMBC.com for more info as well.
Mid-September will be a great time for another Oregon-centric cannabis conference. Not only should Portland still be enjoying good weather (fingers crossed, no promises though), but also marijuana will be legal for adults over the age of 21 after July 1st and we should have a good idea about many of the cannabis commerce regulations that will be implemented by the Oregon Liquor Control Commission. The OLCC must finish their rule-making process by November 1st to comply with the Measure 91 requirement that they start accepting business applications at the beginning of 2016. A sincere thanks to everyone who played a part in making the OMMBC a success in Eugene, I'm already looking forward to September.
Here's a snippet of some of the media coverage of the event: The Oregonian, The Register-Guard, Oregon Business Magazine, KVAL, KMTR, KEZI, and The Weed Blog.