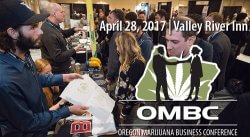 There are certainly several disputes and controversies within the Oregon cannabis industry and community, but none greater than marijuana testing standards. Last October, stringent testing guidelines went into place, making Oregon regulated cannabis "safer than food." The standards for Oregon cannabis were so high, that reports surfaced that a vast majority of California cannabis on the shelves at local dispensaries would fail Oregon's pesticide testing standards. However, those strict standards created shortages and price increases throughout the Oregon market, especially for edibles and extracts.
The Oregon Health Authority has proposed new testing regulations, but many feel decreasing testing requirements is bad public policy. For those interested in Oregon's cannabis testing rules, the Oregon Marijuana Business Conference will cover the latest developments on April 28th, just two days ahead of the April 30th deadline to provide public comment to state regulators on the subject.
The Register Guard reported on the proposed testing changes last December:
Responding to reports of rising marijuana prices, product shortages and processors laying off employees, Oregon health officials Friday eased pesticide and other testing requirements for pot.

Processors and growers had complained that strict testing rules for medical and recreational marijuana imposed by the state on Oct. 1 had created a backlog at testing labs, which led to pot product shortages at dispensaries.

Now, the state has imposed temporary rules that "significantly reduce the amount of testing that cannabis processors or producers have to undergo," said Andre Ourso, Oregon Medical Marijuana Program manager for the Oregon Health Authority.
My friend Keith Mansur calls the proposed rules dangerous in a recent piece for the Oregon Cannabis Connection, calling out pesticide contamination as the real culprit:
Proponents of the changes decry foul play by laboratories for overcharging and fixing the rules. They point to the shortage of concentrates and edibles on dispensary shelves as the reason these changes are needed, but after delving deeper into the issue, it appears the current shortage is being driven by pesticide contaminated cannabis, not high prices and a long wait for test results.

There are two major provisions of the new rules that are in dispute. One would be to change testing on concentrates from the current levels down to only a single annual random sample from cannabis processors. Concentrates are the most contaminated of all the cannabis products in Oregon. Another rule would dial back the current requirement for at least 33% of the flower batches be tested for pesticides to only 20%. These apply to recreational cannabis only.

The current contamination rates are at 10% failure for flower and 26% for concentrates, according to the OHA.
Finding the right balance between public safety and workable regulations will always be a struggle. The Oregon cannabis industry has already exceeded projections with thousands of jobs created and millions of dollars generated. I am confident that the state will eventually find the sweet spot on testing standards to ensure safe cannabis in a manner that will allow mom and pops to compete in the market. In the meantime, it is important that folks in the cannabis community get informed and make their voices heard. The OMBC will be a great opportunity to learn and share ideas on how the industry should move forward on testing and a whole host of matters. And no matter where you stand on the issue, make your voices heard by emailing the Oregon Health Authority regarding its proposed testing regulations at publichealth.rules@state.or.us.
The Oregon Marijuana Business Conference kicks off the evening of April 27th with a VIP party that will include an appearance by Henry Rollins. All things Oregon marijuana industry related will be covered April 28th. Get you tickets now.