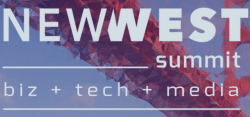 As anyone can see, the cannabis industry has made great strides in recent years, politically, culturally and economically. Creatively and effectively utilizing technology and media have been a part of the foundation for that success. Anyone familiar with the cannabis community, particularly those with an entrepreneurial spirit, knows that the community is constantly brainstorming about how to make the cannabis experience better. The New West Summit is bringing together cannabis, media and technology industries for a unique event in San Francisco on November 20th and 21st. If you have any interest in cannabis and how it intersects with the media and technology sectors, this is certainly an event to check out.
From new ways to consume cannabis, to improving marijuana laws to bringing information to the consumer more effectively, the cannabis community is evolving and constantly changing. The fact that marijuana is just now moving into the mainstream is only increasing the speed that the industry is changing. The changing media landscape provides a great look into the dramatic changes that the cannabis industry is seeing.
Once seen as a bastion of prohibitionists, mainstream and alternative media outlets are increasing their coverage of all things cannabis. Some media outlets are outright supporters of the cannabis movement, while simply keeping an unbiased view of cannabis promotes the movement and industry as anyone can see that the sky doesn't fall when the marijuana industry is legitimized and that the industry is good for the economy.
The New West Summit features speakers and presenters that have seen firsthand the changes and advances of the cannabis industry, providing great insight, such as Harborside's Steve DeAngelo; ArcView's Troy Dayton; and MJ Freeway's Amy Poinsette. The program will, among other things, delve into new advances in products, software and the media while helping people protect their investment. If you are in, or can make it to the San Francisco area, grab your tickets before they sell out.
Full New West Summit press release:
Tech, Finance, Marijuana, and Media Combine in New West Summit's Schedule Debut

New West Summit taking place in San Francisco November 20-21, 2015

SAN FRANCISCO, Oct. 28, 2015 (GLOBE NEWSWIRE) — New West Summit — the first gathering focused solely on the cannabis industry disruption within technology, investment, entertainment and media, announces its schedule for the November 20th – 21st conference in downtown San Francisco.

Opening the Summit Friday, Nov. 20, Democratic Presidential candidate Bernie Sanders'pollster Ben Tulchin helps with Forecasting Legalization in 2016. The panel also features former Assistant White House Press Secretary Roger Salazar, President of Alza PR.

The Summit's Finance panel track begins Friday morning with musician Snoop Dogg's investment fund director Evan Eneman (Casa Verde) joining speakers from the Marijuana Investment Company (MJIC), and the industry's most active hedge fund Poseidon.

Friday also presents California State Board of Equalization Member Fiona Ma discusses creating a California Cannabis Credit Union as part of implementing regulations in the world's oldest, largest medical cannabis economy.

Day two continues with leading angel investor network The ArcView Group holds a 'Shark Tank' with five promising cannabis startups. And Consumer Apps takes center stage with speakers from MassRoots, Smoke Reports, Eaze and HelloMD.

New West Summit's expertly curated, two-day, 20-panel conference and exhibition is set to include over 30 exhibitors, 60 speakers, and 1,000 attendees. Even more surprise guests,keynotes, and parties will be announced in the coming days.

View Full Schedule

Summit co-founder Jim McAlpine said, "The cannabis industry is rapidly specializing, and it's exciting to see an event come together that showcases such professionalization."

The legal cannabis space has an estimated $10 billion economic impact in 2015 in the U.S. There is an immediate, unmet need for a marijuana industry conference tightly focused on the most dynamic, and disruptive segments: applications of high technology, deep capital, and professional branding and content.

Technologist Paul Warshaw said: "Technology is rapidly evolving the cannabis industry in all aspects. The demand for mainstream efficiencies and proper transparency has erupted. We're excited to join New West Summit in amplifying the GreenRush."

For more information, and speaker bios and updates, please go to www.newwestsummit.com.

Tickets to the New West Summit will sell out prior to the event, and sponsorships are nearly sold out. For those traveling to the conference, Parc 55 San Francisco is centrally located in Union Square with easily access to/from public transportation for those who are coming in from out of town. www.newwestsummit.com/get-tickets/

Sponsors include: Bloom Farms, Mass Roots, Steep Hill, Headset, Green Rush, SensiChew, Surna, Green Flower Media, MJ Freeway, Adistry, Smoke Reports, VapeXhale, Hello MD, FlowKana, The ArcView Group, Canopy SF/Canopy Boulder, Eaze, MJIC, Grey Zone, MyDX, The 420 Games, and Stokes Confections.

Media partners include: Mantis, Mass Roots, CNET, 7X7, Hearst Media, Smell The Truth on SFGate.com, PROHBTD Media, CULTURE, DOPE Magazine, Cashinbis, MG Magazine, Smoke Reports, and The Hash podcast.
Caroline Rustigian Bruderer
caroline@bloomcannabisgroup.com
949-315-5101
Gaynell Rogers
gaynell@bloomcannabisgroup.com