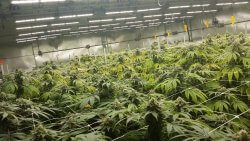 Over-regulation and the influx of big money are two of the major issues facing Oregon and every state that legalizes cannabis commerce. While regulation is a much preferred policy than prohibition, that doesn't mean there aren't problems to address. The costs of doing licences and local land use regulations are two major hurdles facing small Oregon cannabis farmers. The establishment of a micro-canopy license and the future canopy expansion for medical growers should help smaller Oregon cannabis farmers survive, and hopefully thrive, in a very competitive system. I'll be helping cover these important aspects of Oregon's marijuana licensing system at the upcoming Oregon Marijuana Business Conference (OMBC).
A tier one micro license costs $1,000 and allows for cultivation up to 625 square feet indoor of canopy or 2,500 sq. ft. for outdoor. The tier two micro license allows double the amount of canopy as the tier one and the license costs twice as much. The micro licenses are a bit more affordable than the regular producer licenses that cost $3,750 and $5750, comparatively. In addition to the cheaper licenses, the micro licenses don't require a land use compatibility statement from the local government. While outright local bans prevent state licensure, other local regulations that could prevent larger marijuana farms won't stop small farmers from getting their micro license.
The state is currently working on rules that will allow for an expansion of canopy size for recreational-market growers that continue to cultivate for medical patients. The details are still being ironed out, but it is possible that a tier one micro grower could get up to a 100% increase in cannabis canopy that will be allocated for medical patients, processors and dispensaries. Tier two micro growers will also get a boost on their canopy size, but it is likely to be less percentage-wise than the smaller, tier one growers. While the medical canopy must stay in the medical system, growers will be able to be reimbursed for costs from patients and may profit from sales at medical dispensaries.
While many great things have occurred due to legalization, there have been too many changes to the law that unfairly hurt small farmers and the medical system at large. Fortunately, there are some provisions in the law designed to help mom-and-pops and those that are compassionate enough to care for patients. More needs to be done, but the micro-canopy licenses and medical canopy expansions are great first steps. I look forward to discussing these first few steps, and our next steps to improve Oregon's marijuana laws, at the OMBC in Ashland on November 19th.