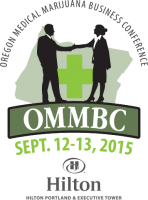 Well, that didn't take long. After news hit that a commercial for the Oregon Medical Marijuana Business Conference (OMMBC) was going to be the first ever marijuana commercial aired during the network news in Portland, Oregon, ABC affiliate KATU decided to flip-flop and prohibit the ad. A KATU Senior Account Executive emailed OMMBC producer Alex Rogers at 10:20am Tuesday morning, stating that the ad was good to go. At 1:59pm, Rogers got another email from the executive, stating, "Loved your press release, very cool being part of history. Bring it on!!!" Unfortunately, higher ups in the network weren't as excited about being on the right side of history.
"At 3:45pm, my ad rep called me in a frantic state, saying that 'something was going on' and that 'General Manager John Tamerlano needed to speak with me as soon as possible,'" Rogers told me. "I ended up speaking with Mr. Tamerlano about 30 minutes later and he told me that he had 'no problem with the ad for the conference' and that he was 'happy to OK it' but since the ad was getting media attention as the "first marijuana commercial" on Portland network news, he was 'going to pull it.'"
The Willamette Week reported:
"After further review, we have decided to step back," said Tamerlano. "We don't accept advertising for marijuana."

Tamerlano clarified that network officials were aware of the content of the ad when they agreed to air it, but decided that it was acceptable strictly as a business commercial. When it became clear earlier today that other media sources were reporting it as the first-ever marijuana commercial, KATU reversed course.

When asked why KATU continues to reject marijuana ads despite legalization in Oregon, Tamerlano said the law was changed very recently, and cited the continuing prohibition of marijuana at the federal level.
It is a shame that they shied away from the ad. While marijuana does remain illegal under federal law, the OMMBC doesn't sell marijuana or even promote the use of marijuana, it merely informs people about local, state and federal law. In fact, the OMMBC actually helps the federal government's priorities listed in its Cole Memo, as it helps provide guidance for cannabis industry entrepreneurs and those thinking of joining the industry, in how they can stay within the state-regulated system and the federal tax code.
Pulling the commercial off of the airwaves, while KATU airs commercials for beer, vodka and pharmaceutical drugs with horrible potential side effects, further demonstrates the second-class citizenship of the cannabis community. We won an important victory with the passage of Measure 91, but there is clearly more work to be done to change our culture and our laws, demonstrating just how important events that help professionalize and organize the cannabis industry, like the OMMBC, are important for our cause. KATU probably created more buzz about the conference (which I help organize) by pulling the ad, than if the station would have just aired it, so
get your tickets while you can
.