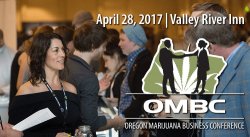 The Oregon Marijuana Business Conference (OMBC), the state's biggest and best B2B conference is happening TOMORROW, APRIL 27th! There are just a few tickets left!
Join a stellar list of highly qualified and proficient speakers covering the most current and important topics in cannabis!
You won't want to miss these expert panelists:
Henry Rollins, Cultural Icon and Keynote Speaker
Senator Floyd Propanski (D-Eugene)
Brian Michaels, Attorney
Amanda Borup, OLCC Policy Analyst
Drake Sutton-Shearer, Co-founder of PR0HBTD Media
Kohl Haver, Attorney
Kristie Cromwell, Attorney
Random Vaughn, Owner of Dank's Wonder Emporium
Danica Hibpshman, Director of Statewide Licensing and Compliance for OLCC
Rachel Kurtz, Business Development Manager of National Cannabis Industry Association
Eric Wendt, Chief Science Officer of Green Leaf Lab
Leland R. Berger, Activist and Attorney
Chelsea Hopkins, Co-founder of The Greener Side
Brent Kenyon, Owner of Grateful Meds and Kenyon Consulting
Anthony Johnson, Director of New Approach Oregon
Justin Botillier, Enrolled Agent and Owner of Rogue Tax Professionals
Alex Rogers, Founder of the Oregon Marijuana Business Conference and the International Cannabis Business Conference
Anne van Leynseele, Attorney and Founder of 7 Point Law
Karen Sprague, President/Owner of Karen Sprague Essentials
Timely topics will be covered at this year's MUST-ATTEND OMBC:
Keynote with Henry Rollins
OLCC Regulations
Staying Medical
Distribution
Taxes and Cannabis
Brand-Building
Oregon Testing Update
Intellectual Property
Special Presentation by Senator Floyd Propanski
It's all happening TOMORROW, so don't waste another second! Come to the OMBC in Eugene and be part of Oregon's cannabis future!