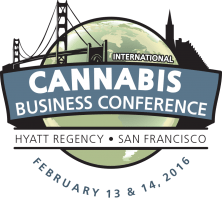 The opportunities to end cannabis prohibition and establish an industry that we can all be proud of are very exciting. While the cannabis community and general public is better off now that marijuana has been legalized in four states, industry participants know firsthand that many hurdles can be placed in front of marijuana businesses. California, fresh off of the heels of passing statewide commercial medical marijuana regulations for the first time, won't be any different. The International Cannabis Business Conference (ICBC), being held on February 13-14 in San Francisco, will provide California cannabis industry participants with a great opportunity to be prepared for upcoming regulations.
In addition to the upcoming medical regulations that must be navigated, California cannabis businesses will likely need to get a handle on recreational regulations as the Golden State is likely to pass marijuana legalization for all adults in 2016. The ICBC will help prepare California attendees for the upcoming recreational market and give guidance on how to impact the rules and regulations in a way that works for the entire cannabis community and the state.
While the ICBC in San Francisco will certainly have a strong emphasis on California, the conference will bring in successful activists and entrepreneurs from around the world. The first 500 ticket purchasers get exclusive access to a VIP party with Tommy Chong and Del the Funky Homosapien. For tickets and more information, check out the ICBC website. On social media, check out #ICBCSF. Below is a press release just sent out by the ICBC. Full disclosure: Marijuana Politics is proud to help organize the ICBC.
For immediate release

Contact: Dan Mahr; 503-593-5497

What to do if California's marijuana regulations suck

Business and politics: At San Francisco's International Cannabis Business Conference in February, entrepreneurs will learn about California's new marijuana policies — and how to change the bad ones.

California is on the verge of becoming the world's largest marijuana market, and the newly-passed medical regulations will make or break businesses. If legalization passes, the market will transform even more.

That's why business and politics are the themes of February's International Cannabis Business Conference in San Francisco. Entrepreneurs will learn about California's new policies, how they can prepare their businesses for future policy changes and how to back fight back against policies that don't make sense.

"California's industry is in the washing machine," said Alex Rogers, producer of the conference. "Businesses better buckle up because some of the new rules will suck. "

The conference is about more than simply featuring the biggest names in the business. "The industry is constantly getting more sophisticated, and just educating people on policies is no longer enough," said Debby Goldsberry, a conference organizer and the executive director of Magnolia Wellness, a medical cannabis collective. "Now business leaders want to influence policies, lead the movement and make history."

The reasons for this are simple. It's good for business, said Anthony Johnson, executive director of Oregon's successful legalization campaign. "We're not just an industry," he said. "We're a movement, and the entrepreneurs who take the lead are loved by their customers for doing the right thing. "

The International Cannabis Business Conference has attracted thousands of conference-goers from around the world, and it's one of the largest and most successful cannabis business conferences.

What/When/Where:

International Cannabis Business Conference, Saturday, February 13 and Sunday, February 14, 2016 at the Downtown Hyatt Regency, 5 Embarcadero Center, San Francisco, Calif., 94111. ww.internationalcbc.com/tickets or 1-888-920-6076.

Praise for the International Cannabis Business Conference

"Business, science, social justice and human rights – this conference has it all." —Dr. Carl Hart, Scientist, Activist, Educator

"Truly unique. The ICBC thinks globally and acts locally." —Ed Rosenthal, executive director of Green Aid and leading cannabis cultivation expert

"A high-class event with a lot of heart. Top-notch speakers, well-organized, and a passionate group of attendees." —Troy Dayton, ArcView Group

Andrew Sullivan is a pioneering blogger, journalist, best-selling author, and leading advocate on drug law reform, civil liberties, and human rights. He is a regular panelist on The Chris Matthews Show and Real Time with Bill Maher.

Arjan Roskam founded the Green House coffee shops and the Green House Seed Company in Amsterdam. He started a series of documentaries called the Strain Hunters, whose mission is to identify, locate and retrieve cannabis landraces that have not yet been studied, to give scientists and doctors the possibility to further enhance medical understanding of the cannabis plant.

Ed Rosenthal, widely known as the "Guru of Ganja", is the world's leading expert on cannabis cultivation. He currently serves as the executive director of Green Aid: The Medical Marijuana Legal Defense Fund.

Debbie Goldsberry, an established leader in the marijuana movement for over 25 years, co-founded Berkeley Patients' Group and is the current executive director of Magnolia Wellness Collective. She is an expert in cannabis business development and teaches at Oaksterdam University.

Raul Del Pino has long been at the leading edge of drug policy in the Spanish-speaking world. In 1996 he created the first Spanish language website dedicated to information about drugs. He has served as chief editor of Cannabis Magazine and is an expert on digital resource and content development. Raul is now in charge of project direction and management for Spannabis, Europe's largest cannabis fair and expo.

California's new regulations: What happened, what it means to your business

What's next in full legalization: How to prepare for a transforming market

Celebrity interview with Tommy Chong

Keynote speech by Andrew Sullivan

Successful cannabis business strategies: Why advocacy is strategic

How to pitch your cannabiz and land big investors

Thinking bigger: Taking cannabis nationally and internationally

Background information:

Politics and advocacy are the themes of February's International Cannabis Business Conference. Entrepreneurs will learn about California's new policies, how they can prepare their businesses for future policy changes and how to back fight back against bad policies.
California's medical marijuana industry is transforming. Growers will need permits and may face fees as high as $10,000. The state is requiring seed-to-sale tracking. Flowers have to be tested in labs for pesticides. State agencies to police production.

Legalization will be on the ballot.

At least 10 proposals have been filed with state regulators, and San Francisco has already created a task force to draft recreational marijuana regulations.

Photos

Conference attendees networking. Photo credit: Matt Emrich, for International Conferences Group.

Rick Steves speaking at the 2015 International Cannabis Business Conference in San Francisco. Photo credit: Matt Emrich, for International Conferences Group.

The ICBC provides cannabis industry participants to network for success. Photo credit: Matt Emrich, for International Conferences Group.

Attendees and vendors have a great opportunity to network at the ICBC in San Francisco. Photo credit: Matt Emrich, for International Conferences Group.

###