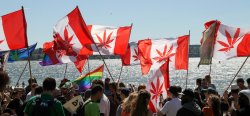 Members of the Canadian House of Commons health committee have been hearing testimony this week about the planned roll-out for Canada's cannabis legalization program, which is set to go into effect in July 2018 – not a long time from now, for those familiar with the cannabis industry. Investors and entrepreneurs interested in the Canadian market are making their moves now, and paying close attention to how things transpire this week in Ottawa.
Major takeaways so far include the usual rabble-rabble from opponents to cannabis legalization, including the Royal Canadian Mounted Police (RCMP), Canadian Association of Chiefs of Police (CACP), Ontario Provincial Police (OPP) and good ol' Kevin Sabet from from the U.S. organization Smart Approaches to Marijuana (SAM).
Rick Barnum of the OPP laments that police simply won't be able to adjust to new policy by July 1, 2018, calling such feats of fantasy "impossible". I somehow doubt there is much Rick would admit to that would make his police force sound so weak under other circumstances, but that rapacious nature of the cannabis plant – it's just too much, people!
Joanne Crampton, the RCMP assistant commissioner for federal policing criminal operations, testified that legalization won't solve issues of the criminal market, and that thinking so is "naive". While I don't disagree that there will continue to be an underground market until the new regulatory structures have had time to take effect, the fear-mongering from the law enforcement community on this issue seems far more likely to continue far into the future.
And of course, United States' most ardent adversary, Kevin Sabet of SAM, whose years-long campaign of rhetoric against cannabis legalization has been reduced to "slow down."
"The only people that benefit from speed in this issue are the business people that are really waiting to get rich. There is no benefit to going fast on this issue at all," said Sabet. "I understand it may be too late, but I still think that forgoing legalization in favour of reducing criminal sanctions and deterring marijuana use is the best way from public health."
Thankfully, the ruling Liberal Party, led by Prime Minister Justin Trudeau, understands that cannabis prohibition is a failed and harmful policy. Despite the hysterical assurances from legalization opponents that the sky will fall, the Canadian government seems bound and determined to move forward on rolling out their new policy by July 2018.
Want to find out more about how Canada's market will look post-prohibition? Join the International Cannabis Business Conference (ICBC) next June 24 and 25, 2018 in Vancouver, BC, Canada. Want to find out how other international markets are looking? Join all of ICBC's events in Kauai, Hawaii; San Francisco, California; and Berlin, Germany.