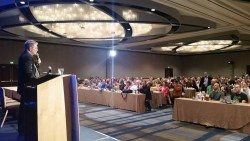 The International Cannabis Business Conference (ICBC) held in San Francisco last month, was a great event and a great success. While, like any business conference, entrepreneurs were there looking to network and learn important information that can help their businesses succeed, the ICBC stressed the importance of political activism and never forgetting the true priorities behind cannabis law reform: protecting patients and ending the severe and harmful consequences of marijuana prohibition.
Speaker after speaker, including Rick Steves, Dr. Carl Hart and Ethan Nadelmann, spoke about the need to ensure that we don't leave behind vulnerable patients and the poor and minorities who have felt the brunt of the War on Marijuana. Now, all of us that helped organize the San Francisco ICBC, move onto beautiful Eugene, Oregon, for the Oregon Medical Marijuana Business Conference (OMMBC) coming up at the Hilton on March 15-16.
The OMMBC, like the ICBC, will provide great networking opportunities and information that will benefit any business in any sector of the cannabis industry while maintaining focus on the fact that we still have work to do to ensure safe access for all patients and that legalizing marijuana is truly about ending the arrests, prosecutions and imprisonments levied against the nonviolent cannabis community. The OMMBC is keynoted by former New Mexico Governor Gary Johnson and Steve DeAngelo while Oregon lawyers, politicians, advocates entrepreneurs will be on hand to discuss current and future Oregon marijuana law. In addition to the information and networking opportunities, the OMMBC provides great entertainment exclusive to attendees with hip-hop legend Del the Funky Homosapien and cannabis comic extraordinaire Ngaio Bealum.
Check out a video that recaps the ICBC and gives attendees a glimpse of what they can expect at the OMMBC:

The Oregon cannabis community has always been a generous group, looking out for the most vulnerable among us and willing to ultimately put justice above profits. I'm very proud that the marijuana movement in Oregon has been very charitable towards sick and disabled patients battling poverty and unwilling to sell out key principles in the name of making more money. The Oregon community can be proud of passing the Measure 91 by the greatest margin of any state legalization measure while allowing home cultivation, maintaining current DUII laws instead of implementing an arbitrary per se THC blood limit and keeping the Oregon Medical Marijuana Act. Prohibitionists and opponents of Measure 91 are already trying to override the will of Oregon voters. The OMMBC is a great place for the Oregon marijuana movement to unite around good business practices, good political activism and the will of the voters. Hope to see you there.