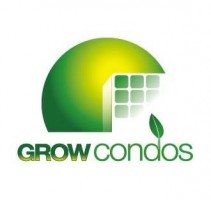 It is really remarkable the number of business avenues the cannabis industry unlocks. Of course, people know about growers, processors and retailers. However, these marijuana businesses need lawyers, accountants, security and maybe even consultants of various types. Additionally, enterprising entrepreneurs often see a niche to fill within the industry as we have seen with trimming machines and kief extractors. One company that has stepped up to fill a need within the industry is Grow Condos, who offer growing space within warehouses, supplying cannabis cultivators with the location, supplies, equipment and know-how needed to grow marijuana. Grow Condos and other up-and-coming and established businesses will be networking at this weekend's Oregon Medical Marijuana Business Conference (OMMBC) this weekend.
Grow Condos purchased a 15,000 square foot warehouse in Southern Oregon, that the company manages for marijuana growers. The company found that they had a successful model that had a demand in areas with state-licensed cannabis production system. The company, which did a reverse merger with a company called Calibrus in July of last year, is publicly traded on the OTCQB market under the moniker GRWC. Unlike many publicly traded companies within the cannabis industry, they do have assets and income already.
I had the opportunity to have an email exchange with their CEO Wayne Zallen, who told me that they are looking to expand into Arizona, Nevada, Colorado and across the nation where there are state-licensed marijuana growers. When I asked what he wanted those in the cannabis community to know about his business, he responded, "We are excited about our new project in the Pioneer Business Park in Eugene, Oregon, of approximately 42,000 square feet of warehouse condominiums. We can offer our customers a turn key operation or just supply them with the equipment that they need to build their own custom operation."
The burgeoning cannabis industry is not a get rich quick scheme by any means, no matter what anyone tries to tell you. However, companies like Grow Condos and many others, demonstrate the ability to find a niche within the industry to survive and even thrive. There are many complications due to prohibition, but those complications are easing day by day, month by month, year by year and we are relatively close to smashing down all of the barriers to business. While these barriers can be frustrating to any business, the reward for those that provide a good product or service and market their business will have the ability to reap the rewards in the near future.
While I don't see "Big Marijuana," like Marlboro or Budweiser, I do see the cannabis industry following in the footsteps of microbreweries and local wineries, microgroweries if you will. If you are in the cannabis industry, or thinking of joining, keep the perspective that you have to put in hard work to survive while we knock down prohibitionary barriers across the country and you can succeed. Of course, networking with successful companies and entrepreneurs at events like the Oregon Medical Marijuana Business Conference doesn't hurt.
Grow Condos, Inc. Will Be Exhibiting at the Oregon Medical Marijuana Business Conference (OMMBC) 2015
EAGLE POINT, OR / ACCESSWIRE / March 12, 2015 / Grow Condos, Inc. (GRWC) developer of warehouse condominiums for the legal medical and recreational cannabis industry announces it will be an exhibitor at the Oregon Medical Marijuana Business Conference (OMMBC) on March 15 & 16 at booth # 1 at the Hilton Conference Center in Eugene, Oregon. Exhibit hours begin at 8:30am each day.

Wayne Zallen, President and CEO of Grow Condos, Inc. says, "We are very excited to attend and be an exhibitor at this year's OMMBC conference. Being an Oregon based company we know Eugene and its surrounding areas will offer many opportunities for cannabis growers. We believe Grow Condos is well positioned to capitalize on the emerging cannabis industry by providing turn-key real estate growing facilities to licensed growers in Oregon and nationwide."

Grow Condos, Inc. announced on February 11, 2015 that it has entered into a Purchase and Sale Agreement on 2.67 acres in the Pioneer Industrial Park, in Eugene Oregon. On this property Grow Condos, Inc. is currently planning to build an approximately 42,000 square foot warehouse condominium project, including four buildings, some of which may be bought by a single user. Grow Condos, Inc. owns and operates a 15,000 square foot facility in Southern Oregon that is fully occupied.

About Grow Condos, Inc.

Grow Condos, Inc. (GRWC)is a real estate purchaser, developer and manager of specific use industrial properties providing "Condo" style turn-key grow facilities to support cannabis production.The Company owns, leases, sells and manages multi-tenant properties so as to reduce the risk of ownership and reduce costs to the tenants and owners.The Company is not involved in the growing, distribution or sale of cannabis.

Forward looking statements in this release are made pursuant to the "safe harbor" provisions of the Private Securities Litigation Reform Act of 1995 and pursuant to the Bespeaks Caution Doctrine.Investors are cautioned that such forward-looking statements involve risks and uncertainties, including without limitation, continued acceptance of the company's products, increased levels of competition for the company, new products and technological changes, the company's dependence on third-party suppliers, the changing landscape of federal and state regulation of the cannabis industry and products related to that industry, and other risks detailed from time to time in the company's periodic reports filed with the Securities and Exchange Commission.

Contact:

Joann Cleckner
Phone (541) 879-0504
Email: joannc@growcondos.com

Be sure to check out the full press release on Yahoo Finance to see the artist sketch of their 42,000 square foot warehouse condominium project in Eugene.