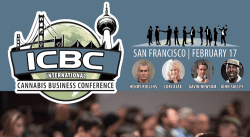 You have been waiting your whole life to attend the International Cannabis Business Conference (ICBC) in San Francisco in the wake of adult cannabis legalization – so why are you still waiting to buy tickets to attend? The conference is this Thursday, February 17th! That means prices will increase on Wednesday at midnight – so don't delay any longer! Get your tickets now!
The ICBC is the premier cannabis conference and expo, and this year's line-up includes some of the best minds in the industry. This Thursday is your chance to hear from Chief of the Bureau of Medical Cannabis Regulation of California, Lori Ajax, whose unofficial title is "California Marijuana Czar" and who will be one of the most influential agents in the roll-out of cannabis regulations in Sacramento over the next year. If you are interested in federal level policy, you won't be disappointed to hear from a series of qualified speakers who will address the topic, "Speaking Republican: How to Survive and Thrive During the Trump Administration" including political and cannabis veterans Steve Grand, Joe Hunter, Nathan Daschle, and Mary Patton.
The stage will also be graced with more mainstream celebrities, including actor, entertainer and cultural icon Henry Rollins, who will speak to the larger social and political ramifications of the global shift toward legalized adult cannabis use. Four-time NBA basketball champion John Salley will also be in attendance and interviewed live onstage by Steve Bloom, Editor-in-Chief of Freedom Leaf and former editor of High Times.
Of course, attending the ICBC on Thursday is the most important part of the week, but if you are able to join Wednesday evening there will be a special VIP meet-and-greet with conference speakers, including keynote speaker Henry Rollins along with special guest California Lieutenant Governor Gavin Newsom, the current frontrunner for California's next gubernatorial election in 2018, and fierce national leader of cannabis law reform.
Tickets to the ICBC go up on Wednesday at midnight, so buy yours now!
This blog was origninally published at www.internationalcbc.com and has bee reposted here with special permission.