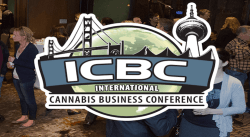 Attending Europe's first B2B cannabis event is your dream, and Berlin, Germany is your destination! You have the chance to join like-minded entrepreneurs and activists from around the world and immerse yourself in cannabis culture, business and politics for the marijuana conference of the year.
The International Cannabis Business Conference is landing in Europe in just over three weeks, and TICKET PRICES GO UP AT MIDNIGHT! Do not delay! The event is expected to sell out, so there is no need to wait to secure your place at a truly historic, ground-breaking event designed to inform, engage and continue the worldwide momentum for cannabis legalization reforms.
Come see and hear what the buzz is about for this monumental meeting of internationally-recognized experts in all areas of the cannabis world. Join the likes of actor-comedian Tommy Chong, the German Hemp Association's Georg Wurth, United States Congressman Dana Rohrabacher, Harborside Health founder Steve D'Angelo, Magnolia Wellness' Debby Goldsberry, NCIA director Aaron Smith, and "the Guru of Ganja" Ed Rosenthal, along with many, more! Find out the latest about Germany's new medical marijuana program, how Berlin and several other localities are moving towards legalizing for all adults and what the future holds for the global cannabis trade.
Great progress is being made across Europe and the globe and the ICBC will have you up-to-date on the latest information that you need to know and will provide excellent networking opportunities for everyone in the industry, or thinking of joining. And, unlike many other conferences, the ICBC prides itself on keeping true to the foundations of the cannabis movement, keeping people out of prison and securing safe access for sick and disabled patients, so the event will also help empower activists politically so we can continue to dismantle the failed and harmful War on Cannabis country by country.
We want to see you there, so don't wait any longer! Be part of the International Cannabis Business Conference this April 10-12 in Berlin, Germany! BUY YOUR EARLY BIRD TICKETS BEFORE MIDNIGHT tonight and SAVE $150!
This blog was originally published at www.internationalcbc.com and has been reposted here with special permission.