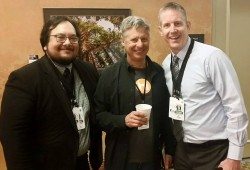 Gary Johnson is a story that can only occur in America. Rising from basically a handyman business to a multi-million dollar construction company CEO would be enough for most people. Utilizing his personal story and political principles of personal freedom, self-reliance and limited government to successfully getting elected as governor of New Mexico would satisfy most. Not content to just go through the motions, Johnson utilized his second term to advocate for the decriminalization and eventual legalization of marijuana. While most would be satisfied with a two-term governorship, Johnson took his libertarian message to the 2012 Republican Party presidential nominee fight.
On paper, Johnson's success as a business man and as a two-term governor of a swing state, should have made him a viable GOP candidate, but his libertarian-leanings, particularly drug policy reform was simply ahead of his time. The fact that Rand Paul and other Republican candidates have moved towards the mainstream on marijuana, has a lot to do with Johnson and Ron Paul, Rand's father, pushing the Republican Party to see the conservative principles of marijuana law reform and that cannabis law reform isn't a political liability, but an opportunity for the Grand Old Party.
Despite the movement towards cannabis sanity across the country, in polls and among candidates, Johnson doesn't see much hope in the current slate of candidates, viewing them as punting on the issue. States' rights isn't good enough for Johnson as he wants candidates to actually stand up for liberty and limited government. If elected president, Johnson would pardon all nonviolent marijuana offenders and do all that he could to end the War on Cannabis. Despite progress, no candidate is as libertarian (or progressive, if you will) as Johnson on marijuana policy, so he is left dissatisfied with the crop of candidates.
In addition to his political aspirations, Johnson has been named CEO of Cannabis Sativa, Inc., traded publicly as CBDS. The company currently markets CBD-infused products under the brand name "hi", a brand name that Johnson sees as a growing and lasting product line. The enterprising entrepreneur doesn't hide the fact that he hopes that his company makes a lot of money, he feels that there is plenty of revenue to spread throughout the cannabis industry and he wants to change the world for the better.
Johnson sat down with Marijuana Politics at the Oregon Medical Marijuana Business Conference (OMMBC) to discuss cannabis business and politics. Video coming soon.