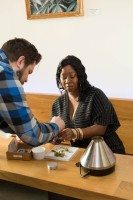 The cannabis community has made great strides across the country, both politically and culturally. Cannabis law reforms win a vast majority of the time when placed on the ballot box and supporting marijuana legalization is no longer seen as a political handicap. However, despite winning great gains around the nation, the cannabis community still suffers through many forms of discrimination, from employment law to housing discrimination. One form of discrimination, that cannabis use must always be tucked away in private, some Denver cannabis activists are seeking to legalize the social use of marijuana in public establishments.
Time reports:
"I enjoy drinking a beer but I don't feel like I should always have to do it sitting in my home," said Mason Tvert, communications director for the Marijuana Policy Project, which spearheaded the effort to legalize pot in 2012. "And people who are visiting from out of town are able to purchase marijuana but are not able to consume it legally."

Tvert, along with attorney Brian Vicente, are leading the initiative to get the issue on the ballot in November, calling their effort the Campaign for Limited Social Use. In order to qualify, they'll need to collect the signatures of 4,726 registered Denver voters by early August. But some local leaders feel that advocates are pushing their luck this time.

***

Under the proposed ballot initiative, commercial establishments that sell alcohol on site would be able to allow marijuana consumption on their premises—which might mean someone vaping at the cocktail bar or smoking a joint in a fenced-in outdoor area. It would also allow for cannabis-only businesses—meaning they do not serve alcohol but do serve as a place to vape—and would give Denver the power to regulate them, setting restrictions on hours and locations.
Forcing people to use marijuana in private isn't just unnecessary discrimination, but it also has negative policy implications as well. Many people, especially tourists, will choose marijuana-infused edibles instead of smoking cannabis flowers because they don't have a place to use cannabis. Infused edibles can lead to unfortunate consequences for people that aren't used to such products, often seeing edibles as a tamer way to use cannabis, when the opposite can actually be the case. Many people will continue to smoke marijuana in private as well, subjecting themselves to fines and wasting law enforcement resources. I wish Denver cannabis advocates luck with this sensible initiative and hope that a similar policy can be a model for the rest of the country.