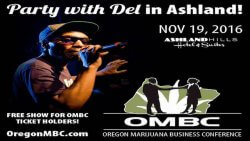 The Oregon Marijuana Business Conference (OMBC) will bring activists, lawyers and entrepreneurs from around the state to network and learn the latest about Oregon's medical and recreational laws. Oregon's cannabis laws and regulations change so frequently that attendance at the OMBC is necessary to keep up with everything. With Ed Rosenthal and Tommy Chong on the agenda, the OMBC includes celebrity icons to go along with Oregon legal experts, successful business owners and the Chair of the Oregon Liquor Control Commision (OLCC), Rob Patridge, who heads up the regulation of the state's recreational marijuana system. In addition to the great information, OMBC attendees will be treated with an exclusive performance by hip-hop legend Del the Funky Homosapien.
Del was interviewed about his feelings on cannabis by SFEvergreen.com ahead of his performance following the International Cannabis Business Conference:
DEL: Arresting people for weed or trying to chase down people for smoking. If you're allowing people to drink liquor, why are you tripping off of this? It's like that movie…

EG: Reefer madness?
DEL: Yeah. My momma still thinks like that. But you know what? It's noto true. Drinking is worse than anything else out there. You lose your motor skills, you're more apt to do stupid stuff… I don't see that with marijuana. And it helps people. It does have medicinal properties.

You ain't gonna die if you smoke too much weed. If you drink too much alcohol, the next day, you gonna feel messed up. Maybe if you're smoking shatter or something like that… but you gotta be smoking concentrated THC to the dome, you feel me?
After a full day of delving into the basics of licensing, reporting, tracking, testing, labeling, and packaging; basically everything folks will need to know to be a medical or recreational cannabis entrepreneur in the Beaver State, OMBC attendees should certainly in the mood to let loose at the Brickroom for a private concert with Del. With the great opportunities in the cannabis industry, plus the star power of Tommy Chong and Ed Rosenthal, tickets are going fast, so be sure to get yours before they sell out.