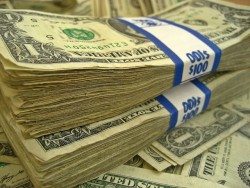 Colorado's legal marijuana market is booming, having blazed past $50 million in sales of recreational cannabis during the month of June, the latest month reported by the Colorado Department of Revenue. This combined with a record $35.2 million in sales of the medical stuff means that total marijuana sales in the state were over $75 million during the month. The Denver Post's Cannabist crunched the latest numbers and reported the news this afternoon:
Recreational pot sales jumped more than $7.6 million from May to June, totaling $50.1 million, according to the data. Medical marijuana sales also saw a significant uptick in June, up more than $2.8 million from the previous month for an annual high of $35.2 million.
That's more than double the amount of recreational weed sold in the same month last year and reflects a 19% jump in medical sales. Total tax revenue for June 2015–including medical, recreational, and licensing fees–also came close to doubling June 2014 figures at $10.9 million vs. $6.5 million respectively.
Even more impressive is total year-to-date tax revenue from recreational sales, which is $2.5 million shy of the total amount brought in during the 2014 calendar year. Last year's recreational sales filled Colorado's coffers with $44 million, while this report bumps total 2015 tax revenue to nearly $42 million. With this year's monthly new tax figures averaging $6.9 million, we're basically guaranteed to surpass that $44 million mark when the July numbers come out in August. You can count on plenty of "COLORADO BEATS 2014 RECREATIONAL POT TAX REVENUE" headlines for sure. While it's near impossible to draw trends from such a small amount of data, it's worth noting that recreational sales jumped nearly 19% from June to July of last year and another 16% from July to August before plateauing in the fall. Colorado tourism season is in full effect and we'll be seeing some very impressive numbers over the next few months.
Keep in mind that this is all happening as recreational prices in the state plummet. Total pot enthusiasm may very well be underrepresented as it takes more people and/or bigger purchases to reach and surpass the same massive dollar amounts.
Image by 401Kcalculator.org via flickr Creative Commons.