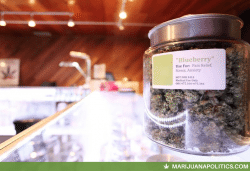 With the news that Colorado now generates more tax revenue from cannabis than alcohol, September 16, 2015, will mark the very first tax holiday in the state. Westword.com has a comprehensive list of where you can and cannot legally purchase cannabis in the Centenniel State, if you care to take advantage of the state tax holiday.
If marijuana sales continue at this pace, cannabis consumers can expect even more tax holidays in future years due to Colorado's Taxpayer Bill of Rights amendment that returns tax dollars to residents if revenue outpaces state projections.
From Fox 31 Denver KDVR:
The state made about $70 million in weed-specific taxes compared to about $42 million from booze.

This tax news comes just as Colorado's "marijuana tax holiday" takes place. Wednesday is the day when pot can be bought without paying any taxes.

The state expects to lose as much as $4 million during the one-day tax holiday.

Marijuana retailers have spent weeks getting extra inventory ready for the event.
As the Marijuana Policy Project's Mason Tvert told The Daily Caller: "It's crazy how much revenue our state used to flush down the drain by forcing marijuana sales into the underground market. It's even crazier that so many states are still doing it. Tax revenue is just one of many good reasons to replace marijuana prohibition with a system of regulation."
Refund payments to state citizens are a rather peculiar policy, but seem to be very popular and any attempts to revoke them are likely to end in failure. As more and more states legalize marijuana, and bring in millions of dollars in new revenue, if more and more citizens will receive tax rebates due to cannabis revenue outpacing projections. This new tax revenue doesn't even take into account the economic benefit gained from creating thousands of new jobs or the savings taxpayers experience from the better prioritization of law enforcement and judicial resources. Since the "sky is falling" rhetoric that prohibitionists have claimed has not come to fruition, it will be interesting to see exactly how many states will wisely garner all of the benefits that cannabis commerce bring.