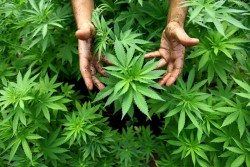 If there are two things president-elect Donald Trump loves more than anything else, it's fame and money. Trump's international recognition a flashy billionaire is undisputed. Despite the obvious thrill he gets from antagonizing opponents, the truth is the Donald wants to be popular. And there is no more popular political issue today than marijuana legalization.
"In November, the country elected a new president who promised to shake up Washington. At the same time, the cannabis industry took a giant leap forward with seven states voting yes to measures further legalizing marijuana. In total, California, Nevada, Massachusetts and Maine legalized recreational use, and Florida, North Dakota and Arkansas legalized medical use, bringing the total number of states with legal marijuana to 29.

The recent slate of successful marijuana-related measures at the state level could be viewed as a national referendum on cannabis. The "yes" votes cut across party lines and presidential candidates. Today, two-thirds of Americans live in states with legal access to cannabis.

California, the first to pass medical marijuana two decades ago, is arguably the most significant bellwether state in the evolution of cannabis. It is the country's most populous state, the sixth largest economy in the world and a cultural trendsetter. California's Proposition 64 legalizing adult use of marijuana passed with 57 percent of the votes."
As a businessman, Trump necessarily views things through a capitalist and market-based lens. The economic opportunity that comes along with a legal marijuana market, specifically the California market, coupled with enormously popular support which cuts across party lines, makes it unlikely the new administration will spend a great deal of time and effort to enforce cannabis prohibition in the coming years.
Marijuana legalization IS happening. Business is moving forward, albeit with complications and still-evolving systems of regulation. For those working in the cannabis world, it will be important to remain vigilant. We must push for sensible policies by supporting organizations like the
Drug Policy Alliance
, and staying informed of current events by attending events such as the
International Cannabis Business Conference in San Francisco on

February 17th
. Let's remind the new President how many people in the business community – and in the country – love weed.
This blog was originally posted at www.internationalcbc.com and has been reposted here with special permission.