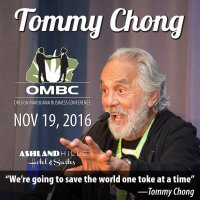 The Oregon Marijuana Business Conference (OMBC) will bring nearly 1,000 cannabis industry participants into the town of Ashland, providing a nice little economic boost to the town of under 30,000. The Ashland Daily Tidings covered the conference in an article titled "The inside dope on marijuana":
The Oregon Marijuana Business Conference scheduled for Nov. 19 at the Ashland Hills Hotel & Suites will bring in more than $250,000 to the local community and continued cachet as an epicenter for this industry, according to organizer Alex Rogers of Ashland Alternative Health. "This is bigger than the international business conference. It was sold out last year and it'll be sold out again this year," said Rogers.

***

The subject of the conference, attended primarily by growers, is to go over the policies and regulations affecting people in the industry. "All the rules change so quickly and growers, our main audience, need informative talk about policies, rules and regulations," said Rogers. " One year of not having it is like five years of not having a conference in another business. Things change so quickly from year to year. There's also lots of disinformation out there too."

Rogers says policy makers attend the conference to network with growers and people in the industry to get a better feel. One of the discussions will no doubt center on taxation. In Jackson County there is an ordinance to raise taxes for marijuana in county areas and the city of Ashland also has a measure to levy a 3 percent local tax. "What I tell administrators and policy makers is, 'don't tax prohibitive fees that push people toward a black market.'"
The entire article is worth checking out over in the Ashland Daily Tidings and the OMBC is certainly worth attending if you are in the cannabis industry or are curious about joining. Time is running out on early bird tickets, so you should hurry!