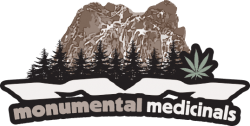 This time last month growers, activists, and leaders in the cannabis industry gathered together in Eugene for the Oregon Medical Marijuana Business Conference (OMMBC). A coming out of the closet for some, it was a monumental moment for all. And speaking of monumental, it opened up a space for cannabis companies such as Monumental Medicinals to share not only their products, but their knowledge.
Based out of Southern Oregon, Monumental Medicinals is a family owned and operated cannabis company. While roaming through the conference, I had the pleasure to stop by their booth and speak with one of their co-founders, David Melendez. Son to a grower, David has been cultivating cannabis for over thirty years. He has been in Oregon for more than twenty of those years, and currently owns a farm four thousand feet high in the Cascade mountains.
Called Monumental after the region it is based out of, all of Monumental Medicinals products are produced from seed and sun-grown. David grows the flower and his partner Laura helps make the products, which range from topical salves and cannabis tinctures, to vape pens with pure CO2 oil and RSO (Rick Simpson Oil). All of their products are produced with the most wholesome of ingredients, and with the utmost respect for the environment.
As a long-time farmer with extensive experience in both organic and bio-dynamic methods, David believes in taking the time to find out what grows well in your environment. Growing at a uniquely high elevation, he dedicated fourteen seasons to finding the right strains to grow at that height. He and his partner Laura then dedicated another five years on packaging and labeling alone, ensuring that their users get the most user friendly of products. The end result is a high quality product for qualified patients.
As a self-proclaimed grower and user, David is looking for happy strains. His strains are hard, dense, fully mature, and maintain the vigor of a healthy and hearty plant. When asked for his recommendations for potential new growers, he strongly encouraged that we work together. He suggests that new growers seek consultation from more experienced growers and, as a result, save themselves untold years of learning the hard way. In David's own words, "We might as well use each other as resources."
For more information, check out Monumental Medicinals website.