"Time to celebrate!" Steve Wessing is all smiles at The Other Spot Thursday night, where organizers are already hard at work preparing for this year's upcoming Hempstalk only hours after a 3-1 vote to overturn a permit denial, with Amanda Fritz voting against.
As one of the original core staff for Hempstalk, Wessing couldn't be happier with how things went at City Hall. "I hope the Mayor stays involved and honors his proposal to help it be a success." Mayor Charlie Hales had addressed the issue of Portland Police Department's involvement in last year's Hempstalk and vowed to personally oversee the Police department's presence at this year's festival.
The topic of police was a hot topic issue during testimony, prompting Amanda Fritz to cut one commenter short. Justin James Bridges, also a Hempstalk core staff member, noted that no arrests or violence had occurred at Hempstalk, something that could not be said of other festivals held at the Waterfront location. Bridges also noted that due to Portland Police Department's neglect merchandise was stolen from the location overnight. Bridges was reassured by the Mayor's promise to oversee police operations at the event.
Around 30 people testified in favor of the permit. There was no opposition testimony from the public. Most arguments for allowing the festival to proceed included the revenue the city would receive, constitution issues, and documentation that the City's assertions under the permit denial lacked any evidence. Hempstalk organizer's showed documentation signed by vendors that they would not sell or distribute cannabis at the event. Organizers also showed video of their multiple announcements to festival goers that consumption was not allowed or tolerated along with printed and digital materials that also stressed no selling or consuming was to be done on premises.
"It's like trying to ban a theater because some people may sneak in candy." Long time Hempstalk supporter Jessie Sponberg spoke out against the permit denial at City Hall. No stranger to Portland City Hall Sponberg agreed that this was a victory for the people. "We're on the frontier of setting policy that will last for longer than us; it's our job to craft and shape sensible legislation. City Hall shouldn't be making it harder for us. It was really a magical day because City Hall s where you go to witness your bad news first hand. Stuff like winning appeals never happens these days."
"I felt empowered that so many people came to testify on our behalf. Everyone spoke from the heart." Ben Christensen, a business owner, was in attendance for the decision but did not speak. "It was nice to see a lot of people speaking about hemp."
In all the discussion about cannabis consumption on site, it is easy to forget this festival is about hemp. Since Oregon enacted Measure 91 on July 1, 2015 Portland has publicly taken a lax stand on public consumption, issuing statements that people should not call 911 as it is not a public safety issue and that PPD will not issue citations at the Blues Festival. However, organizers wonder why Hempstalk has been plagued by unrealistic requirements, expectations and repeated permit denials. "The only way to comply is 1:1 ratio of monitoring to insure no consumption." Don Skakie, a Hempstalk supporter commented.
This is the second time Hempstalk has won a permit appeal. Organizers look forward to educating the public about hemp, while providing a platform for hemp based businesses and entertainment.
Despite numerous rules and requirements to allow last year's permit to go through, Hempstalk organizers say they met all requirements imposed on them by the City and saw no reason why this year they shouldn't be given the same chance again.
Organizers doubt cannabis legalization will have an impact on the event because consumption is strictly prohibited.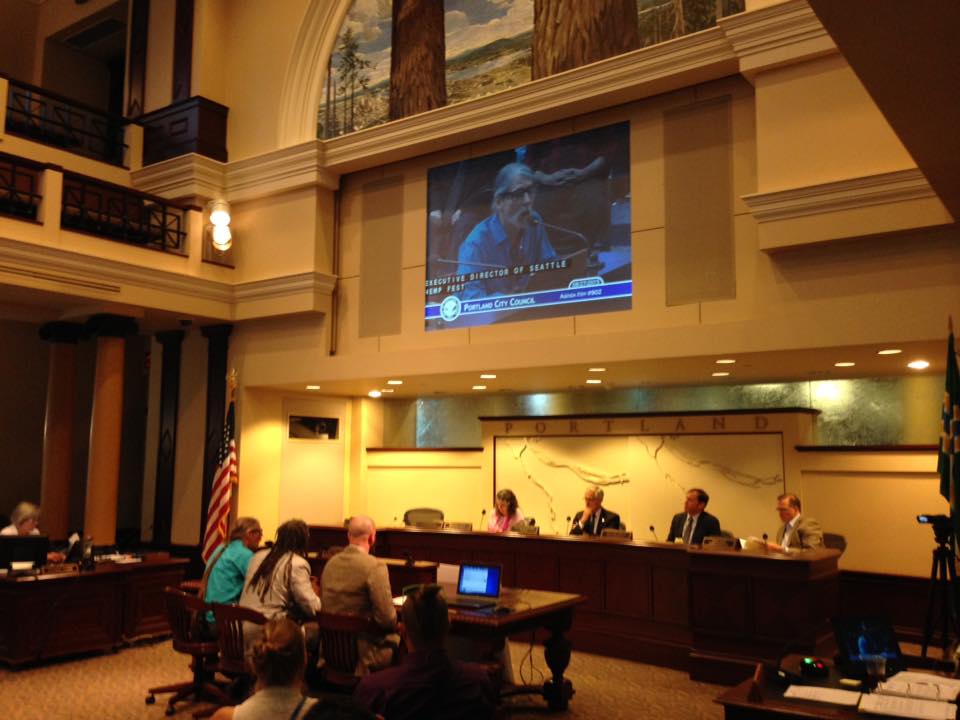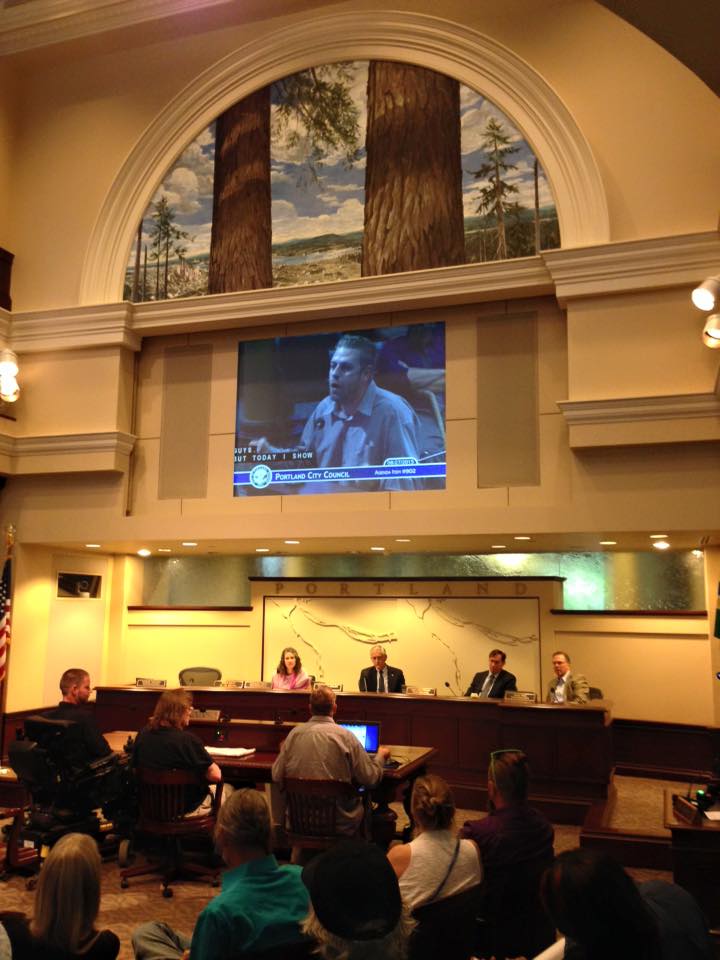 Photo Credits of Portland City Council testimony regarding Hempstalk–Oregon Hemp Works