Many Marijuanapolitics.com reporters enjoyed making their first legal cannabis purchase in the state of Oregon yesterday. It seems there are new dispensaries opening daily. I visited shops in each of Portland's communities to see how each neighborhood was bringing their own flavor to this historic day. Here are some of the places that made a big impression.
Cannacea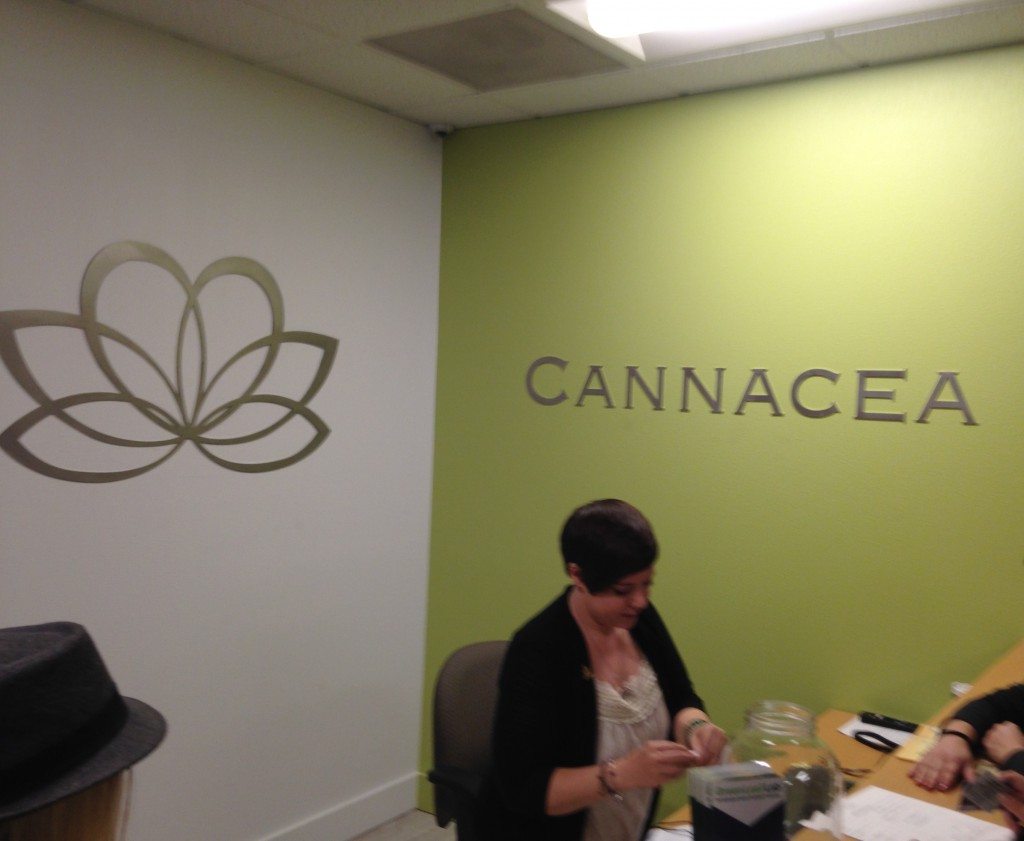 Our first stop was Cannacea's 10 a.m. opening. Cannacea chose the first day of legal sales as their grand opening. I can remember seeing billboards for this dispensary popping up over other dispensaries about a year ago, creating a buzz as to who was this new dispensary to come. The wait is over, and those who braved camping out overnight were rewarded with gift bags. Noah's Ark Consulting sponsored 200 bags, 100 for cardholding Oregon medical marijuana patients and 100 for recreational users. O.m.m.p patients received bags containing cannabis and various cannabis products, while recreation users received smoking accessories and a gift certificate to redeem for future purchases at Cannacea.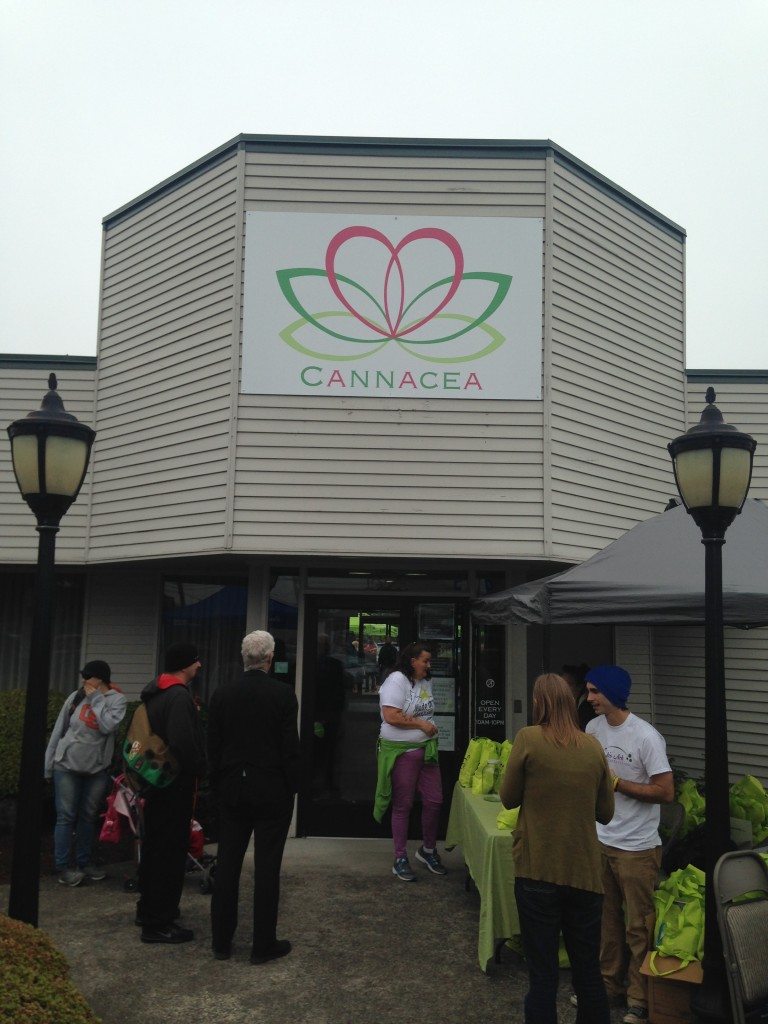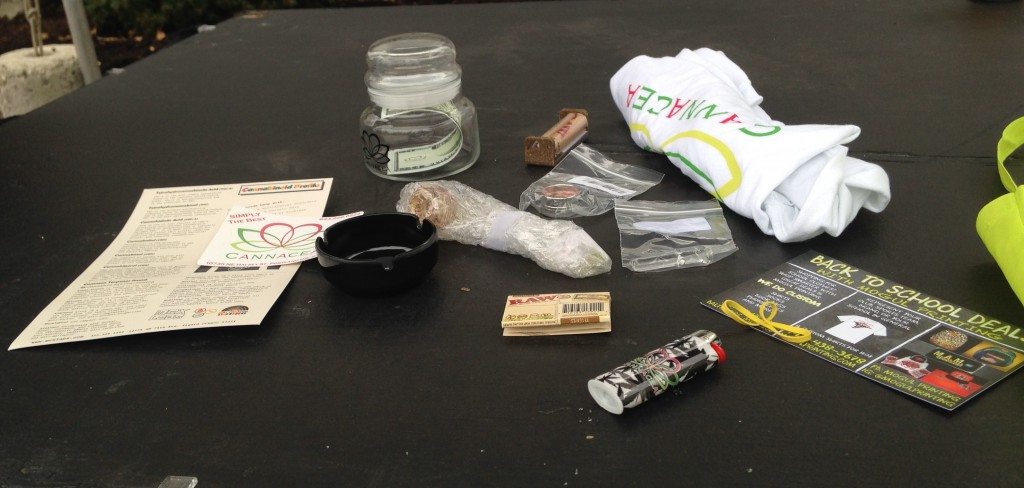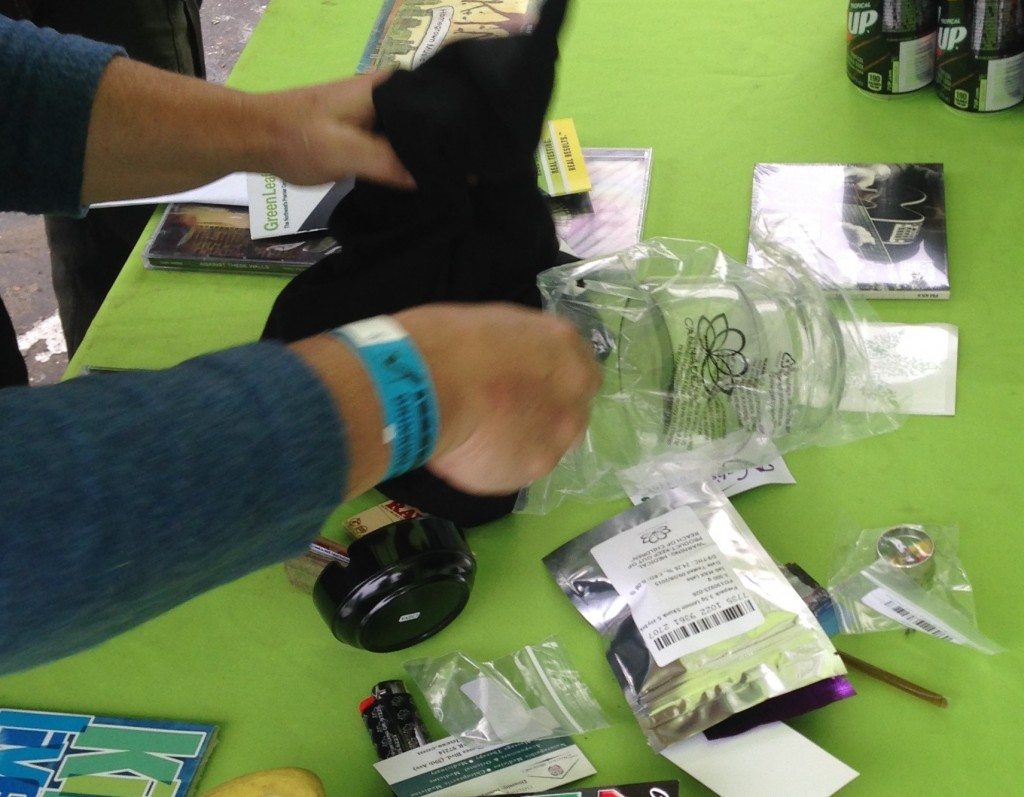 Multiple vendors were on hand to education patrons about their products and give samples. Looking Glass Extracts, whose focus is on terpenoid profiles was there to educate everyone about how there is much more to cannabis than just cannabinoids. Green Leaf Labs was there to help people understand testing profiles. BHOombchellys and Jollybee were on hand to give away samples and inform customers about extracts different applications.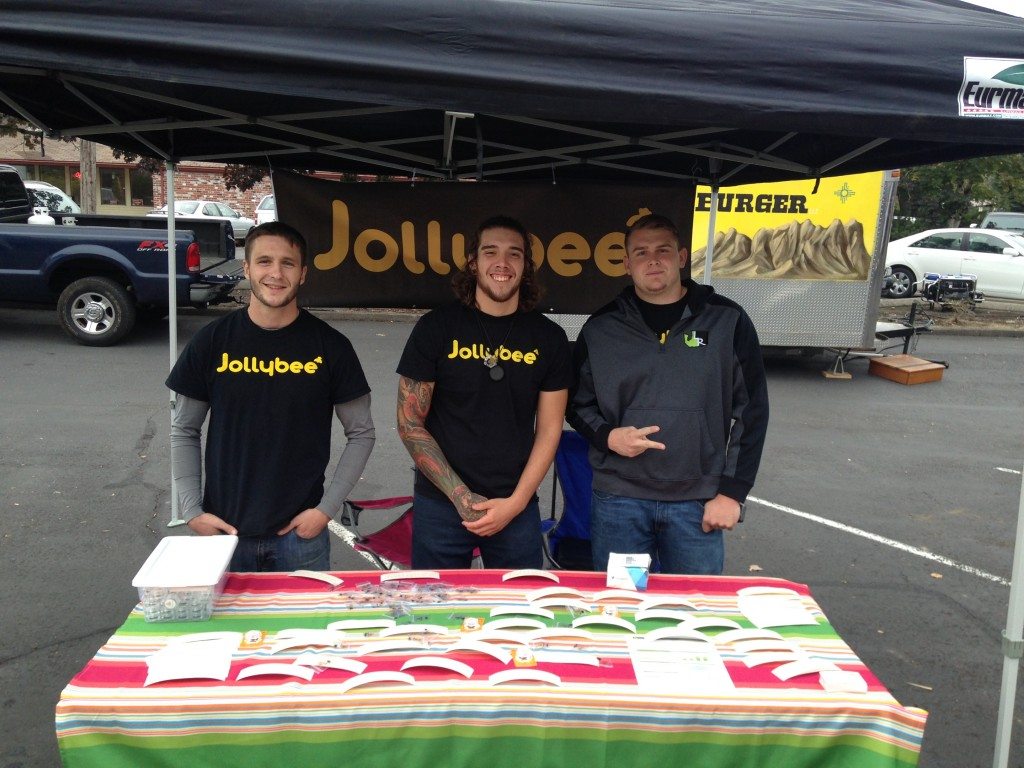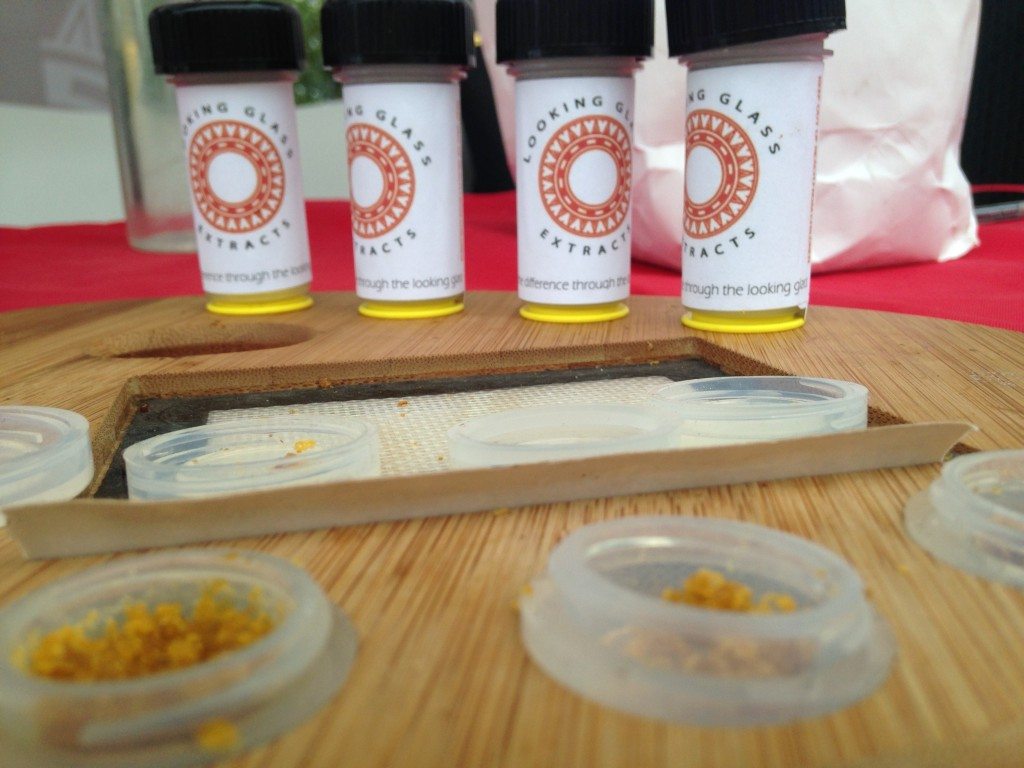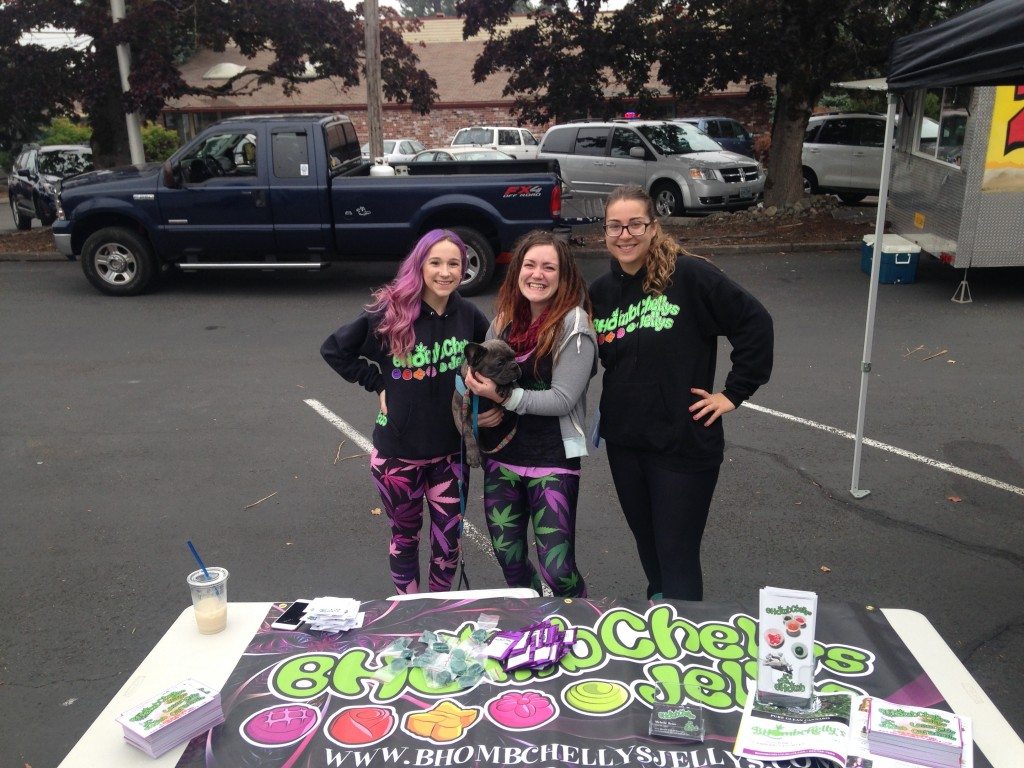 Anthony Johnson made an appearance, arriving to make his second purchase. Anthony made his first purchase of the day at Cannabliss, paying homage to the state and going with the Oregon bred and grown Trainwreck strain. "I feel very grateful and emotional to have Anthony Johnson present. He has done so much and been very inspirational." Trish Siler owner of Cannacea. Anthony addressed the crowd as they waited in line.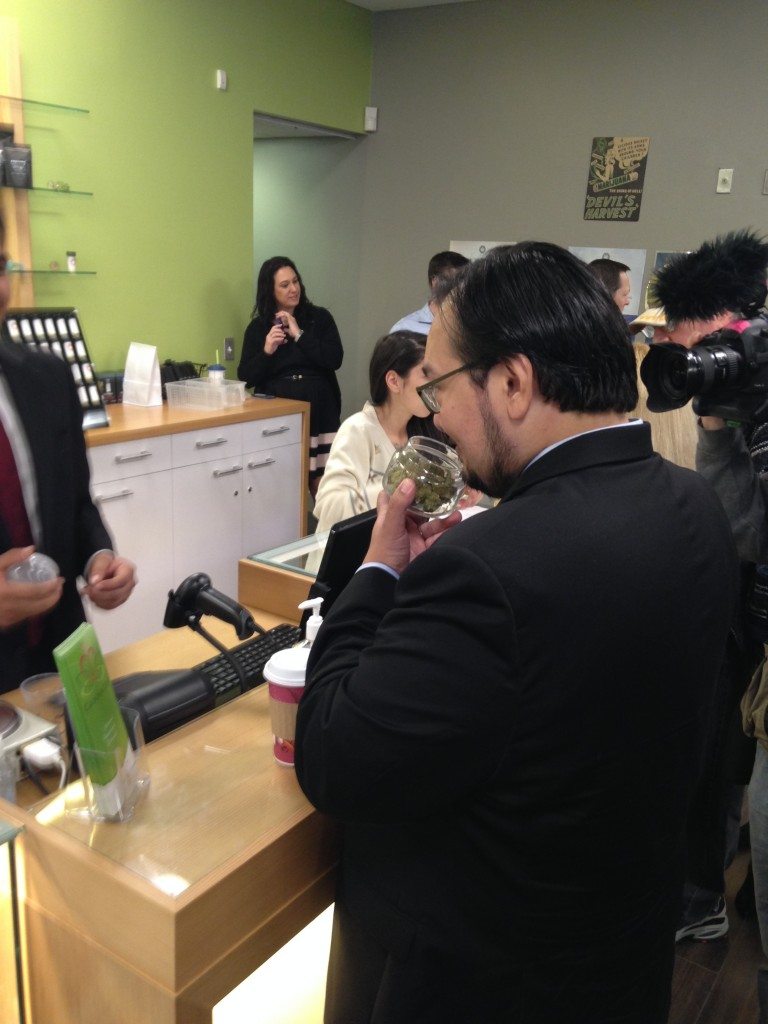 People began lining up as early as midnight. At the 10 am mark, around 250 people had lined up awaiting the Grand Opening. Most were happy to be a part of something so historic and commented that they didn't believe they would live to see it. "I'm glad to see the end of prohibition. I didn't think I'd see it in my lifetime." Joel Nelson, a patient who had been waiting since 6 a.m. commented. Molly, a representative for BHOombchellys remarked "I didn't think this would ever happen. I'm excited for the future."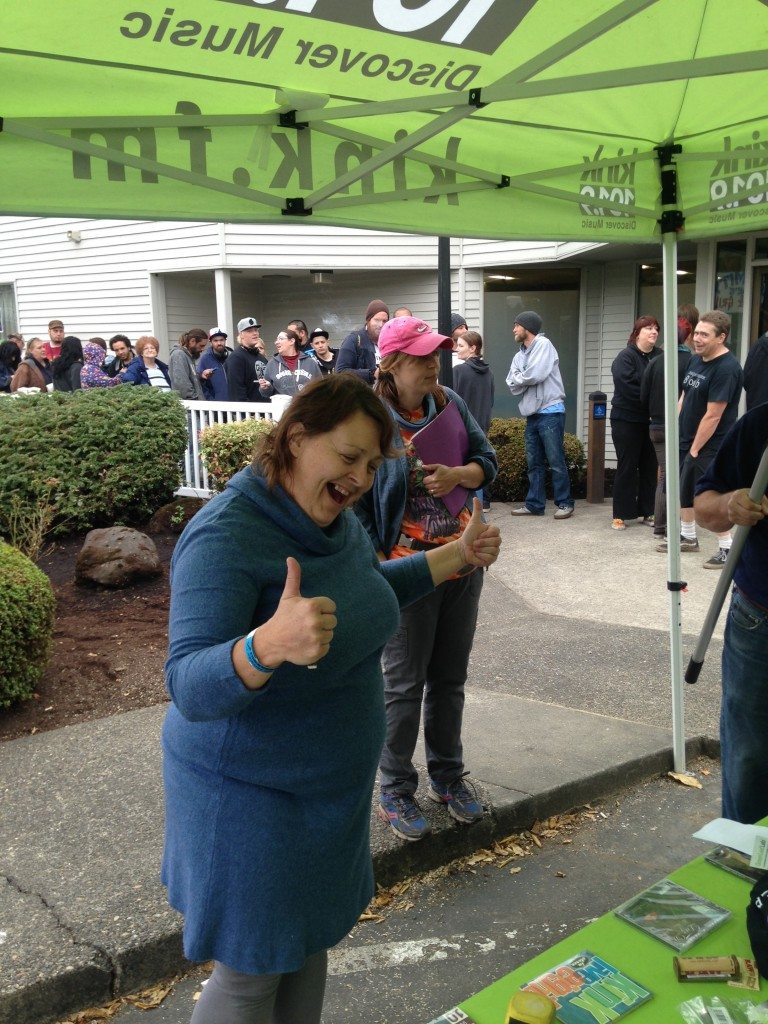 Haborside Health Center Portland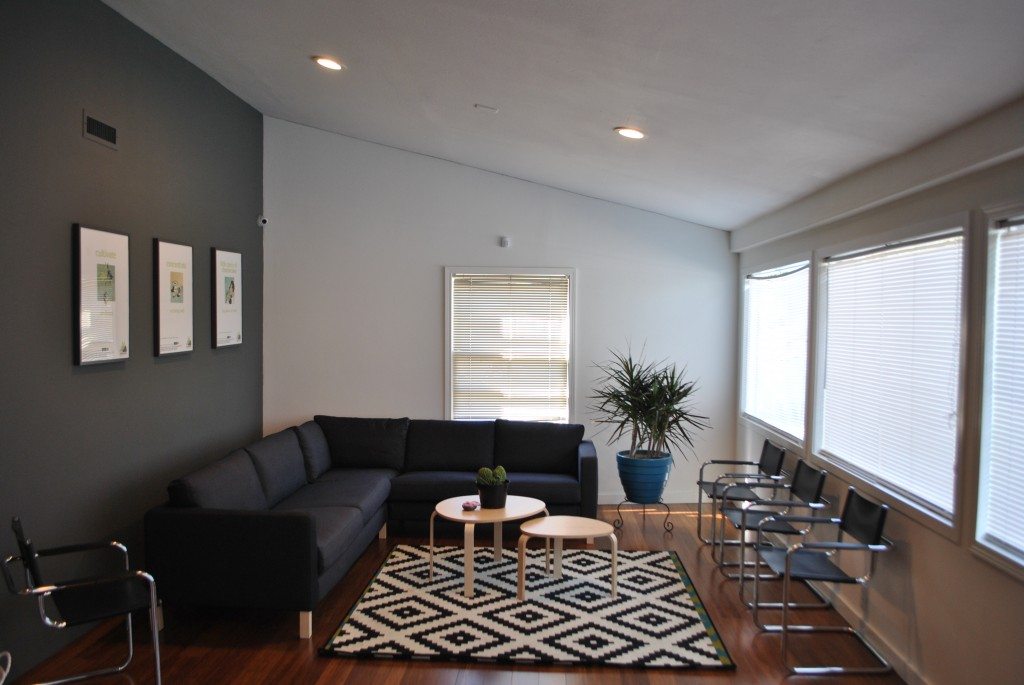 Our next stop was one of Portland's newest dispensaries, Harborside Health Center. After only receiving their permit on September 30, Steve DeAngelo's franchise opened its doors October 1 to Oregonians. Made famous for their California dispensary Harborside Health Center in Oakland is one of the nation's oldest dispensaries. There has been mixed feelings about Haborside Health Center expanding to Oregon. Karen from Cannaflage Designs was at Harborside to make her first purchase. "I love Harborside, they have such a great reputation. As a vendor working with reputable dispensaries is key."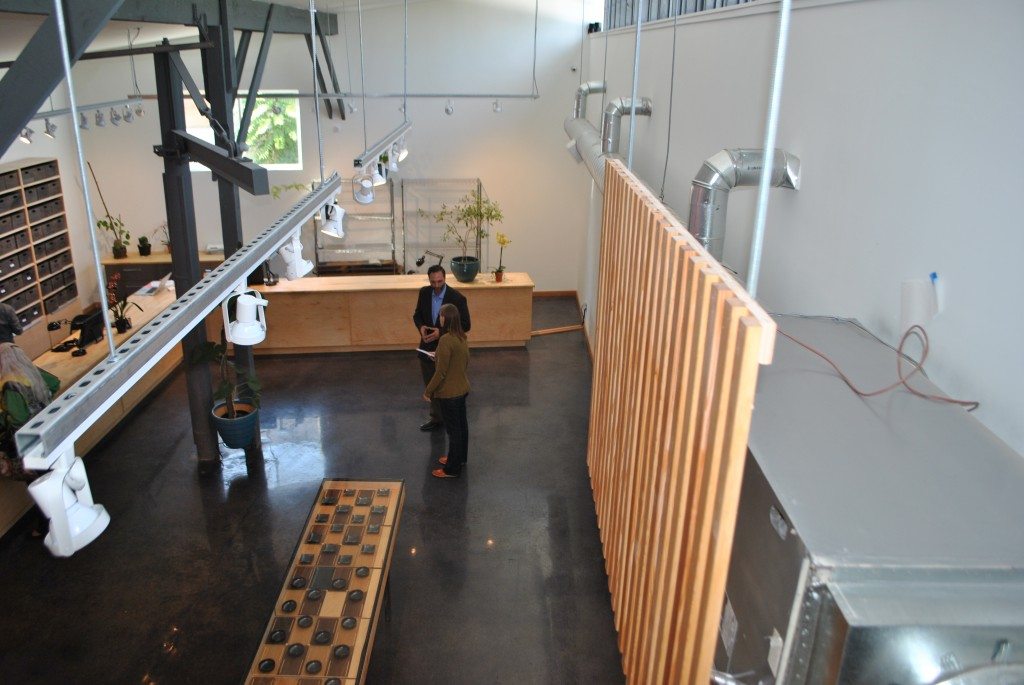 We met with Chris Helton, General manger of Harborside Portland. He was happy with the turn out and expects it to increase in the next few weeks. One of the things he is most proud of is their focus on the community. This includes things from hiring staff from the area, to community beautification and education. The focus here is on medical, and there is plans for future wellness services to be included free of charge for patients, such as acupuncture and massage.
Panacea
Next up was Panacea. This shop came highly recommended and we were eager to check it out. With museum quality art and a bright open space, Panacea is a hidden gem. Urb Thrasher and Charlo Greene had already visited by the time I arrived, and I can see why. Designed to appeal to soccer moms, professionals and patients alike, Panacea's focus is on quality. Melissa Egan, co-owner and LBQT housing activist, said that there was a perfect turnout. She believes that her community has been supportive and welcoming since they opened in April. In an act of neighborly love, Melissa purchased sandwiches for her customers from local deli Bacchi's. The deli had suffered a break-in the night before, and Melissa wanted to do what she could to support them.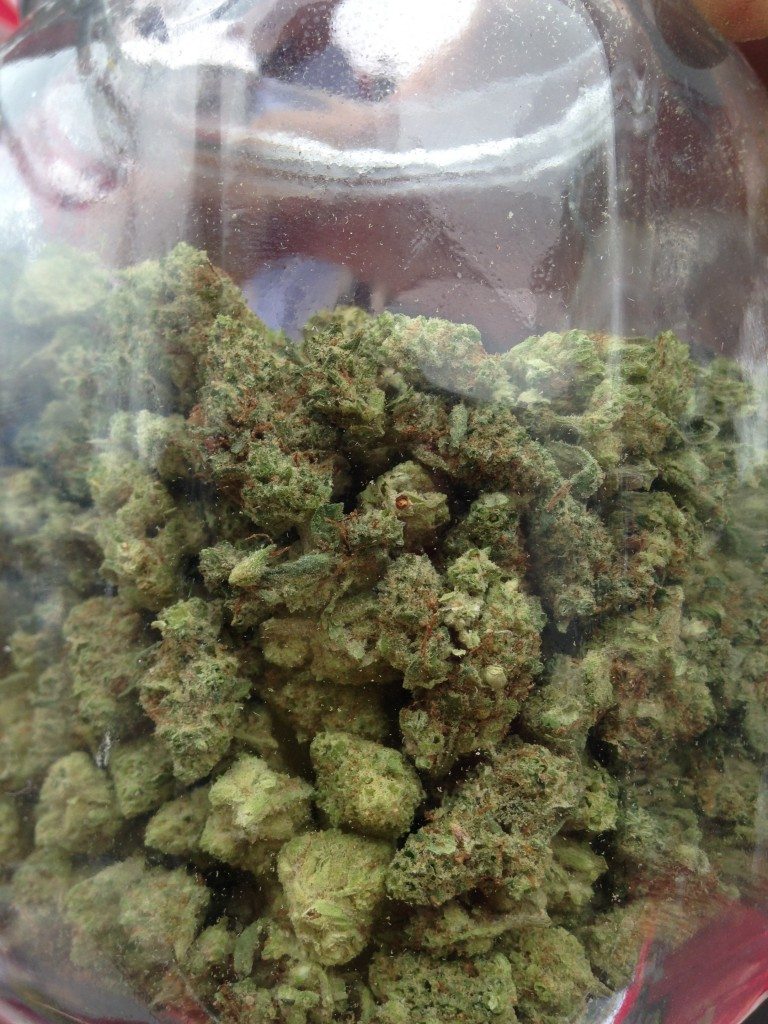 Budtenders at Panacea are extremely knowledgeable about the cannabis on the shelves, and you are likely to be able to speak with the grower who grew the marijuana you are purchasing. One such grower we spoke to is Steve Bailey of Wildfire Farms. When asked about the turn out he said, "People from the community came out in droves. Steady business all day." The highlight of his day was teaching someone to use a rolling machine for the first time.
Calyxes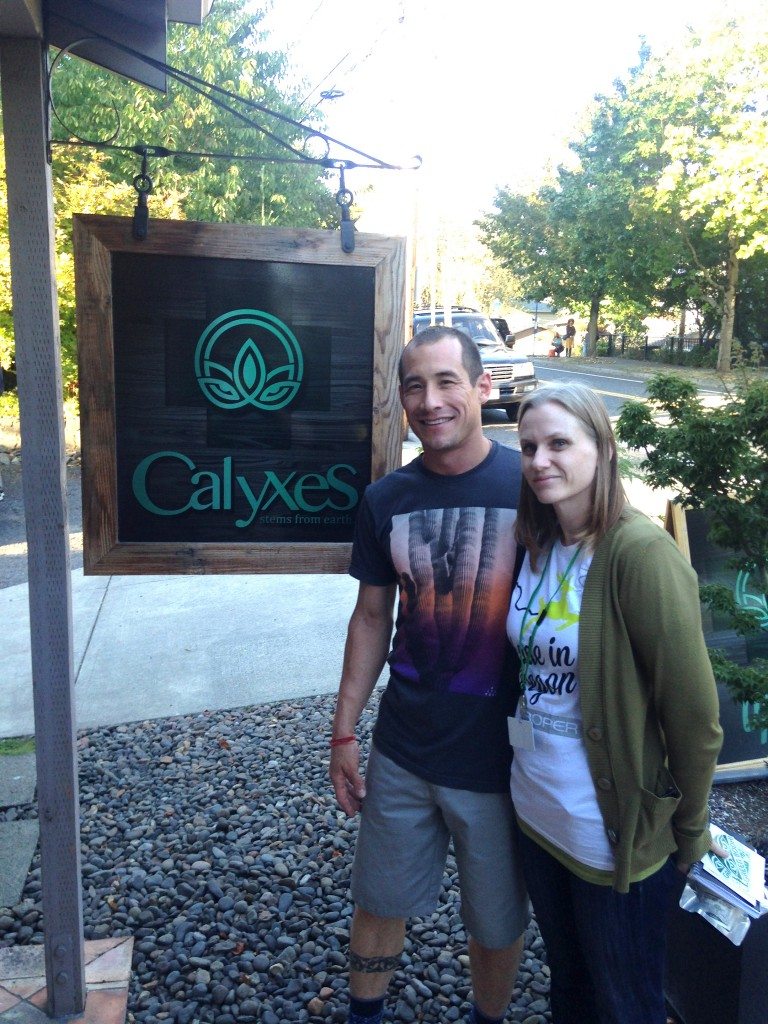 One of our final stops was the beautiful Calyxes. Touting a boutique experience, this is the nation's only fully Clean Green Certified dispensaries. We arrived at the 4:20 mark, and business was still pretty steady. A small line outside had patrons waiting around 20 minutes before they were allowed in to make their purchase.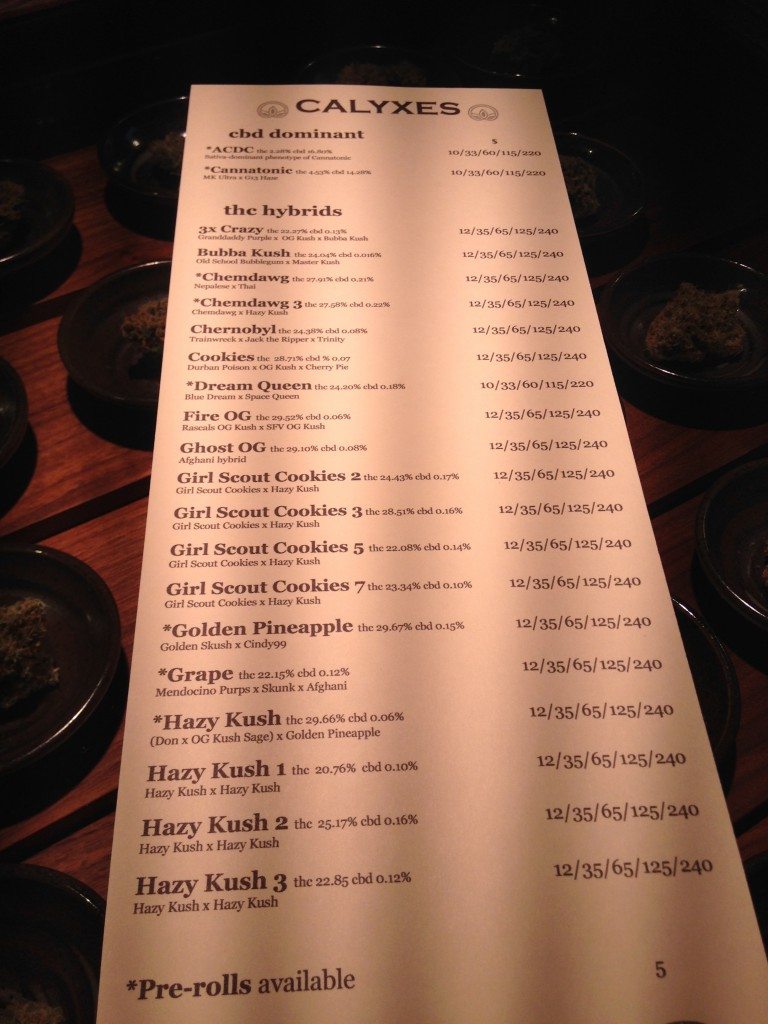 A customer commented he hasn't smoked cannabis in three years, and he is looking forward to going home and enjoying organic cannabis he can trust. "I will go home, eat and then smoke and relax. It will keep me from drinking a lot. When I smoke I don't drink." There were a lot of new people stopping by. One person had happened to walk by after visiting the bar next door. Another customer was there because they had read about it in a Willamette Week feature during their lunch break and didn't even know it existed even though he lives within walking distance.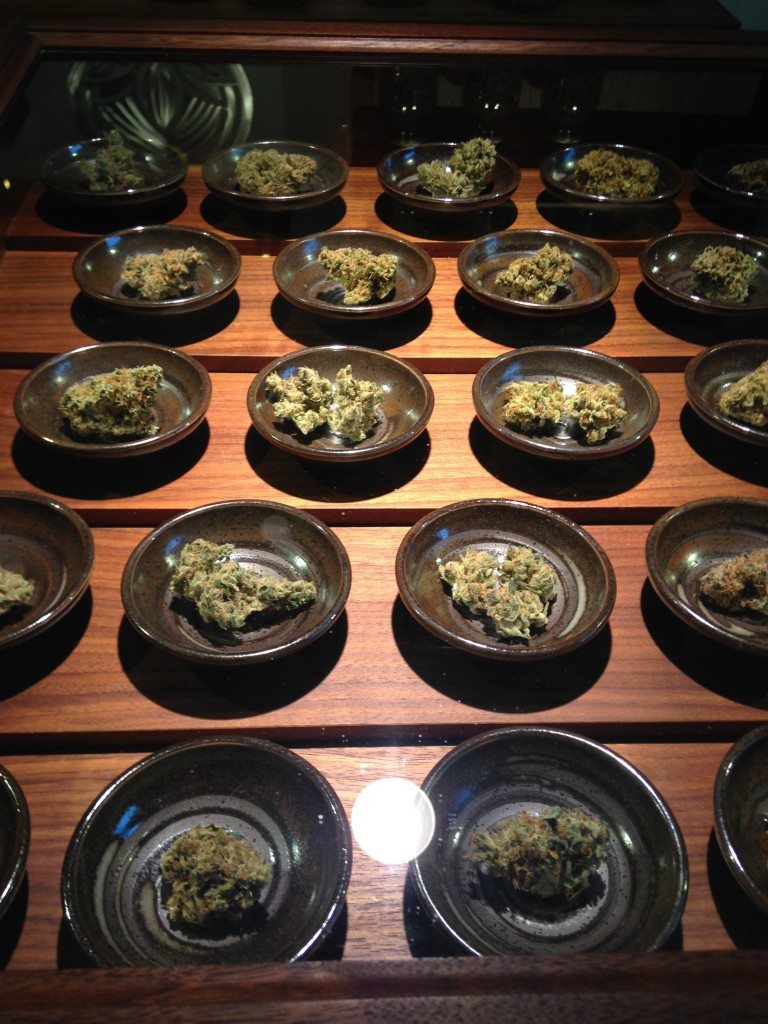 Budtenders were extremely busy educating first time customers. "It's exciting. We've had a lot of happy, curious eyes and it's been nice to educate people about the differences in flower and what CBD is." Jake Mather. We spoke with co-owner John Bayes, who also goes by Green Bodhi. He is excited for the fist day of legal sales, but notes the focus will remain on patients. The focus on Clean Green is due to the dedication to patients and wanting to provide actual medicine. "When we are dealing with cancer patients and children we can't be giving them pesticides and chemicals." Calyxes is giving away CBD medicine to cancer patients and epileptic children who need it.
It is going to be interesting to see how these business fair the next three months of tax-free sales. Whether you are a patient looking to try a new place or just coming to market as a recreation user, Oregon's cannabis market is proving to be so diverse you are sure to find your new regular spot.