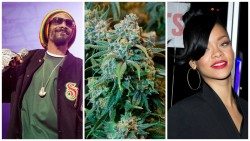 Let me be the first to say: I love Snoop Dogg, I love Rihanna, and I love cannabis. I mean, as the youngest child in my family, I still remember when my older, teenage siblings would ask me what my favorite song was, and at age 4 I would immediately start singing, "Snoop doggy, dawwww-aw-aw-aw-awg." True story. I loved him then, and my love for hip-hop has only grown. When it comes to Rihanna, as if loving her music wasn't enough (I mean, I flipped out when the BBHMM video dropped) following her on instagram and snapchat makes it feels like we're basically friends.
So, when I saw the news that my favorite childhood rap artist, and my biggest celebrity friend-crush are BOTH creating their own brands of weed, my reaction was something like, "AH! That's so awesome!! Wait… they're like really rich though… Aren't a lot of activists in the cannabis law reform movement like… kinda against that? Wait… are Snoop and RiRi creating the first forms of BIG WEED!?"
And that's how I arrived at this article. To be completely honest, I really don't know what to think. One side of me thinks "Leafs by Snoop" and "MaRihanna" are great. I love the idea of marijuana going more "mainstream" – and actually I do think the legal marijuana movement needs some big name supports if we want to see full cannabis acceptance. But, does starting your own celebrity line of weed products really aid in the fight against marijuana prohibition?*
You could argue yes. With more money and more star power comes more exposure. More exposure to a legal, functional, and lucrative marijuana industry can't be a bad thing. It could perhaps entice other states to look closer at legal weed and the benefits that come with it. Chances are a lot of Snoop and Rihanna fans are also already fans of cannabis… but there's also the chance that their influence could change some people's minds toward cannabis. (For example: Oh I love Rihanna. She's so successful and so beautiful! Oh, she smokes pot? Maybe it doesn't make people lazy? Maybe it's not at scary as a I thought?)
However, you could also argue no. For exhibit A, we turn to Ohio. Sure, Nick Lachey wasn't proposing his own line of weed per se, but simply the threat of big weed made even some who love cannabis turn against an initiative to legalize it. Yes, you read that correctly. In the case of Ohio… celebrity power and scare of "big weed" actually made pro-cannabis voters say, "I would rather continue consuming an illegal plant and risk being legally persecuted than legalize that plant just to buy it from those people, in that way."
If that's what it takes to get marijuana law reformers to stand against legalization, will Snoop Dogg's and Rihanna's products help or hinder the progress of marijuana legalization? Many young people fully accept cannabis (whether they use it or not), so as a millennial, it's not hard to picture a future where legal weed is completely normal. And in that future, it will probably be treated similarly to the way we currently treat alcohol. And continuing with that logic, it seems to me that someday MaRihanna could just be another name on the shelf, right next to amazing buds grown by local farmers, similar to the way Budweiser is just another name on the shelf, right next to Ninkasi.
One thing I do know, is those involved in the legal marijuana industry right now need to view themselves as pioneers. Every new step we take in this brand new industry should be a step toward freedom for all cannabis consumers. Do you want to be remembered on the right side of history, or the wrong one? That's a question I hope all cannabis law reformers and legal cannabis investors are asking themselves every day, because we truly are writing history.
*To be fair, these stars have never said that it's their goal to aid in fight against marijuana prohibition, but an expansion of legalization would certainly help their companies, right? When we're still in such a precarious spot with legal weed in this country, it's important for the cannabis community to consider the strength of their wallets, and their words.