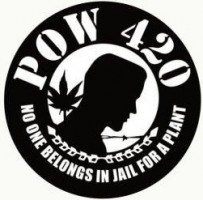 Marijuana is becoming increasingly accepted in the United States, yet even in places where it has been completely decriminalized, people are still serving time behind bars for nonviolent, marijuana-related "crimes." Because they are essentially victims of the "War on Drugs," some people call these incarcerated individuals Prisoners of War.
Adela Falk and Dennis Boisvert have both been particularly empathetic to those serving prison time for cannabis. Together, the two have more than 35 years of combined activism under their belts. Even though marijuana laws have come a long way, Dennis and Adela have recognized that more needs to be done.
"Activists were not meeting the needs of cannabis prisoners," said Dennis.
And that's why they formed the group POW420. The main message is, "No One Belongs in Jail For a Plant," and their work reflects that belief.
You may have read recent headlines about Jeff Mizanskey. Jeff was released from a Missouri prison last month after serving 21 years for a nonviolent marijuana offense. Through POW420, Adela and Dennis reached out to Jeff while he was still incarcerated, and helped play a part in his ultimate release.
"We sent out our newsletter, 'Prohibition Times,' and Jeff replied. It can be that simple," Dennis said. (The group actually sends that newsletter to more than 300 people actively serving time in prison for cannabis, to help them keep up-to-date on changes to marijuana policies that could potentially assist in their release.)
Adela and Dennis ended up corresponding with Jeff quite a bit, and Adela was even allowed to share four meals with him. Dennis said, "She took every opportunity she could," to visit him.
The group's ultimate goal is to end marijuana prohibition and to see all the POW420s released, but making sure people like Jeff don't to feel forgotten is also clearly at the core of their mission. In a letter on their website from August of 2014, Jeff's writes to Adela, "Yes you do put a smile on my face every time I get a letter from you. I don't smile much in here. Thank you again."
There are countless reasons to celebrate Jeff's release, but one of Adela's reasons shows how committed she is to helping people wrongfully locked away.
"Adela is very happy that, with Jeff free, she can start visiting Natalie DePriest," said Dennis
Natalie is currently serving 15 years in a Missouri prison for growing marijuana. She's is one of the next people the group would like to help see released. Dennis went on to explain why this is the case:
"We are limited in ability to do things for prisoners because typical state laws allow you to visit only one prisoner at a time. So, once you are on a prisoner's list, you can't be on anyone else's in that state, and we're human with geographic limitations."
Because of these limitations, Dennis and Adela are hoping to try a new model for POW420 soon. They said that they've recently formed a business that is licensed to publish interviews, which in turn will allow them to interview more than one prisoner in a state. With the ability to help more inmates wrongfully incarcerated for cannabis, the group will definitely need more help – and they welcome it openly.
On the POW420 website, the group lists several examples of how you can take action. You can volunteer to send birthday cards to POW420s, you can share your story, or you can simply spread the word. Regardless of what you do, Adela, Dennis and the group POW420, remind us that doing something is important. While celebrating the strides being made in the world of marijuana policy reform, we can't forget those who are still being victimized by the legal system due to cannabis.