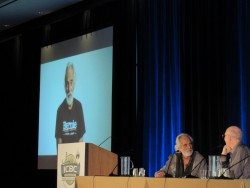 The International Cannabis Business Conference (ICBC), fresh off of a successful conference in Vancouver, Canada, is heading to San Francisco in February, ahead of a April conference in Berlin. The political success across the world, is fueling commercial prospects around the world and the demand for the ICBC is another example of the growing momentum cannabis law reform has around the globe.
The San Francisco Chronicle's Smell the Truth Blog broke the news:
Business opportunities in California are growing exponentially since voters decided in favor of legalizing cannabis, making the upcoming International Cannabis Business Conference an important event for anyone looking to make money with marijuana.

***

This year's ICBC will be held at the Hilton Union Square Hotel in San Francisco February 16-17, and while more details await to be announced, past keynote speakers includes notable cannabis activist and comedian Tommy Chong, travel writer Rick Steves, and lawmakers Earl Blumenauer and Dana Rohrabacher.

The ICBC San Francisco event will also be the first before the conference goes international with an event slated for April in Berlin, Germany. The country has blazed trails as one of the few European countries to embrace a legal medical cannabis system, and Berlin's local government is currently seeking federal approval to distribute licenses for recreational cannabis coffee shops.
While it is a business-centric event, the ICBC mixes activism, politics and culture unlike any other business conference today. Along with the latest information on California's cannabis laws, as well as updates from states and countries with regulated cannabis, ICBC attendees always hear from activists that have dedicated their lives to helping patients and keeping people out of prison. Tommy Chong has closed previous events and ticket buyers have been treated to parties featuring acts like Bay Area hip-hop legend Del the Funky Homosapien.